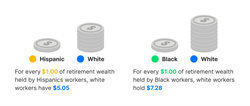 SAN FRANCISCO (PRWEB) July 08, 2020
It's no secret that America's financial system has contributed to and perpetuated economic inequality for Black and Hispanic communities, including unequal access to retirement wealth-building opportunities. Excluding Social Security, for every $1 of retirement wealth held by Black workers, white workers hold $7.28. For every $1 held by Hispanic workers, white workers hold $5.05.
As part of the first step in a company discussion on how to respond to the current awakening of how far systemic racism reaches across the U.S., Human Interest, the full-service 401(k) provider for small and medium-sized businesses, releases a meta-analysis report on the racial retirement wealth gap, the need for which was brought to light by the company's Black employee resource group (ERG).
Financial inclusion is core to Human Interest's mission to ensure that people in all lines of work have access to retirement benefits. This commitment to understanding and shedding light on disparities in retirement wealth serves as an essential part of bringing this important wealth-building vehicle to communities who have historically been underserved.
To view and download the full report, visit go.humaninterest.com/the-debt-we-owe-how-employers-can-help-close-the-racial-retirement-wealth-gap. To learn more or to offer feedback, please contact jeff.s@humaninterest.com.
###
About Human Interest
Human Interest is the affordable, full-service retirement benefit provider for small and medium-sized businesses. With a Human Interest 401(k) or 403(b), employees in all lines of work can access a high-quality retirement savings plan to help them on the way to financial independence. Headquartered in San Francisco, CA, Human Interest has helped more than 60,000 employees working at 2,000+ small and medium businesses across America. For more information please visit humaninterest.com or follow us on LinkedIn.
Investment advising services are provided by Human Interest Advisors LLC, an SEC-Registered Investment Advisor. This is not an offer, solicitation, or advice to buy or sell securities in jurisdictions where Human Interest Advisors is not registered. An investor should consider investment objectives, risks and expenses before investing. There are risks involved with investing. Investors should consider all of their assets, income and investments. All opinions and results included in this publication constitute Human Interest Advisors' judgment as of the date of this publication and are subject to change without notice.