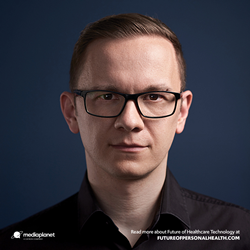 "The biggest milestone in the history of medicine is the patient empowerment movement. Patients, who have been the most underused resource of healthcare, can now act proactively and become a member of their own medical team." — Dr. Bertalan Meskó, Ph.D., Director, The Medical Futurist Institute
NEW YORK (PRWEB) September 23, 2021
Mediaplanet today announces the launch of its cross-platform campaign "Future of Healthcare Technology." By collaborating with leadership from some of the world's most respected healthcare organizations and industry thought leaders, this campaign addresses a range of topics, including leveling interoperability, remote patient monitoring, robotic-assisted surgery, and medical device platforms.
"Future of Healthcare Technology" highlights several technologies and platforms that are empowering healthcare professionals to better navigate the changing healthcare system, boost the patient experience, grow their practice, and more effectively improve the quality, equity, and affordability of care during these unprecedented times. The campaign also looks at the dental industry, highlighting the newest technologies and insurance resources that are revolutionizing how dental care is offered, especially as cost remains the No. 1 barrier to proper dental care, followed by lack of coverage.
The print component of "Future of Healthcare Technology" is distributed in today's edition of USA TODAY in the New York; Phoenix; New Orleans; North, Central, and South Florida; Boston; Chicago; Denver; Seattle; and Detroit markets, and in OR Today. The digital component is distributed nationally through a vast social media strategy, and across a network of top news sites and partner outlets. To explore the digital version of the campaign, visit futureofpersonalhealth.com/campaign/healthcare-tech and futureofpersonalhealth.com/campaign/oral-health.
Dr. Bertalan Meskó, who leads The Medical Futurist Institute, is featured on the cover of the print campaign. In an exclusive interview, Dr. Meskó talks about how his organization helps healthcare organizations adopt technology introduced by science-fiction media, and how these advancements are improving the patient experience. "The biggest milestone in the history of medicine is the patient empowerment movement," Dr. Meskó says. "Patients, who have been the most underused resource of healthcare, can now act proactively and become a member of their own medical team. Any technology that supports that transition significantly improves the ways patients can access care."
This campaign was made possible with the support of The American Telemedicine Association, HIMSS, The Association for the Advancement of Medical Instrumentation, The American Health Information Management Association, The College of Healthcare Information Management Executives, Dr. Bertalan Mesko, Dr. Geeta Nayyar, John Lynn, Sanjay Gupta, Dr. Bill Dorfman, Dr. Chris Salierno, The Academy of Medical-Surgical Nurses, Beazley, BioIntellisense, Intuitive Surgical Operations, Medigate, MedSign, Repugen, SureCo, Talkdesk, VitalTech, Vizient, Wellview Health, DentaQuest, SprintRay, Rob Paulsen, Lacy Walker RDH, Association of Dental Office Managers, American Academy of Implant Dentistry, National Association of Dental Plans, Academy of General Dentistry, The American Academy for Oral Systemic Health.
About Mediaplanet
Mediaplanet specializes in the creation of content marketing campaigns covering a variety of industries. We tell meaningful stories that educate our audience and position our clients as solution providers. Our unique ability to pair the right leaders with the right readers, through the right platforms, has made Mediaplanet a global content marketing powerhouse. Our award-winning stories have won the hearts of countless readers while serving as a valuable platform for brands and their missions. Just call us storytellers with a purpose. Please visit https://www.mediaplanet.com for more on who we are and what we do.
Press Contact:
Neetu Wadhwani
neetu.wadhwani@mediaplanet.com
(617) 909-4990