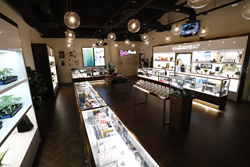 Our goal is to provide our patients with high quality, compassionate medicines that our earth provides. We address your entire body, mind and spirit.
BELLFLOWER, Calif. (PRWEB) April 15, 2020
The Medicine Woman is proud to have obtained the first cannabis license for manufacturing, delivery and dispensary in the city of Bellflower. And, the first to operate and be owned by a woman.
"Our goal is to provide our patients with high quality, compassionate medicines that our earth provides. We address your entire body, mind and spirit," explained Charis Burrett, owner of The Medicine Woman. "We go above and beyond to take the time to care for our customers and create quality products."
Due to the COVID-19 pandemic, the entire team at The Medicine Woman is focusing on shop cleanliness and providing customers with a safe and clean environment. All of the budtenders and staff are required to wear masks and gloves, and free masks are also provided to any customer who does not have one.
The Medicine Woman started as a California nonprofit in 2015, offering over 300+ products to our extensive patient network. Today, we offer the Medicine Woman products and hundreds of other products from leading brands at our brick-and-mortar location in Bellflower at 9058 Rose St.
The dispensary opened in early 2019, and since then, has been providing the highest quality and "nothing but the best" in cannabis and they are dedicated to creating awareness and fighting stigma outside of the cannabis industry. In addition to The Medicine Woman's complete line of products including live resin and deluxe gold batteries, they also offer an eponymous line of CBD products, top-shelf flower and apparel including fashion-forward t-shirts, sweatshirts and hats with the iconic Medicine Woman logo.
You'll also find many of the top cannabis brands throughout the shop, including all categories -- flower, vape, concentrates, CBD, edibles, clones and other specialty products.
"We have nothing but the best in the industry," Charis continued. "It takes a village and it takes a team, and that is what we have here."
The entire staff at The Medicine Woman is trained, passionate and knowledgeable about all aspects of their cannabis offerings and dedicated to sharing that expertise with anyone who visits the store. Whether you know what you want or you need help with discovery, the experts at The Medicine Woman have got you.
"We are always working on communication with our clients and patients to find out what their needs are. We are dedicated to educating our clients and ensuring they have the information they need--whether it is for recreational or medicinal usage. Communication is really the key for us and helping people to get what they need out of cannabis. We are that liaison for them."
Even if you know nothing about cannabis, The Medicine Woman is a place where you can get educated, ask questions and find out more without any judgment.
In celebration of the upcoming 4/20 holiday, The Medicine Woman will be giving away gift bags stocked full of products and other cool merchandise to the first 100 patients. Be sure to check out our upcoming article in the Los Angeles Business Journal's 4/20 edition.
About The Medicine Woman
The Medicine Woman is committed to providing a full-spectrum of global plant medicines and destinations to benefit the health and wellness of our local communities. We are dedicated to giving our patients direct and safe access to the finest medicinal herbs from around the world, and to the compassionate care of California's finest herbal practitioners. We are committed to offering products whose integrity and quality we consider "Nothing but the Best," and we are seeking to revolutionize modern health care by providing natural, safe, effective and affordable remedies for our communities' healthcare needs. The Medicine Woman's core value is to educate our communities about the benefits of herbal medicine and other natural wellness based healthcare systems.