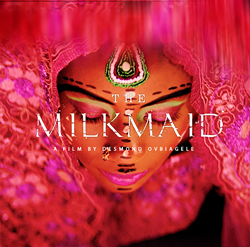 "As we made the Milkmaid, we felt it critical we as Africans tell our own stories from our own perspective to the world." Dr Seun Sowemimo, Executive Producer
LAGOS, Nigeria (PRWEB) December 04, 2020
Representing Nigeria on a Pan African level, The Milkmaid leads Nigerian films at the AMAAs nominated in eight categories including Best Film and Director for Desmond Ovbiagele, the Ousmane Sembene Award for Best Film in an African Language, NFVCB Award for Best Nigerian Film, Achievement in Cinematography (Yinka Edward), and Achievement in Make-up (Rahila Manga). Furthermore, Anthonieta Kalunta, making her film debut as the protagonist Aisha was nominated in the Best Young/Promising Actor and Maryam Booth scored a nod in the Best Actress in a Supporting Role category.
"We sought to create a film that showcases the elegant and vibrant Fulani culture of Northern Nigeria, juxtaposed against a graphic and visceral portrayal of the harrowing conflicts, the effect on victims and the personal and societal implications of the resulting psychological trauma," said Desmond Ovbiagele, Director of The Milkmaid Movie. "During production, we paid particular attention to the eligibility rules for the Academy Awards, which led to Milkmaid winning an overwhelming majority of the NOSC votes. I am proud of the cast and crew who worked tirelessly to make this Oscar selection happen."
The film's Executive Producer, Dr Seun Sowemimo stressed, "As we made the movie, we felt it critical we as Africans tell our own stories from our own perspective to the world." The film has already received international attention, having been invited to screen in separate private ceremonies for world leaders, organized by the World Bank and the United Nations' Spotlight Initiative respectively. Now, with support from Nigerian and African film industry leaders and audiences, Milkmaid Movie is set to take off in the global film scene.
The Milkmaid had theatrical runs in Zimbabwe and Cameroon is currently enjoying a limited run in select cinemas in Nigeria. Danono Media, the producer of the movie, is presently seeking digital streaming platforms for a wider, international release. To watch the trailer, go to https://milkmaidmovie.com/.
For any press or distribution inquiries, please contact: info@milkmaidmovie.com