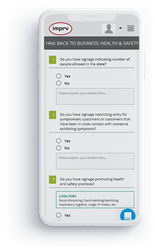 We wanted to find a way to help business owners take a proactive stance as they re-open.
LONDON, Ontario (PRWEB) May 27, 2020
The Minery, a full-service employee and brand experience consulting company announces the launch of their free one-time digital H&S Audit through their Imprv™ platform. The audit will provide business owners with the ability to audit their current state as they re-open their business following specific provincial guidelines.
The COVID-19 pandemic has had massive economic impacts on business owners and as government restrictions begin to lift, stringent H&S protocols have been put into place. Based on these protocols The Minery has put together 8 industry specific Audits to help business owners get a snapshot of their current state and quickly identify areas of opportunity. The industries currently covered are:
1. Retail
2. Restaurant & Food Services
3. Auto
4. Manufacturing
5. General
6. Office
7. Health Care
8. Hospitality
"We wanted to find a way to help business owners take a proactive stance as they re-open. To get off on the right foot. Our 'Back to Work' audit will be sure to keep you on the right track. Said Founder and President, Heather Macpherson.
Businesses interested in completing an Audit can submit their information here.
About The Minery:
The Minery's mission is to transform and change the way organizations manage and improve performance. We provide cutting-edge, fully integrated web-based Workplace Performance and Improvement digital solutions along with a suite of client-focused consulting services. When these two elements come together, we not only transform service, sales, and financial results, but we significantly impact organizational culture. We are leaders in the marketplace, connecting performance data to the workplace through our integrated software platform, named Imprv™.