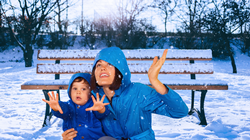 After getting feedback from hundreds of moms, the Momgeni jacket was designed and developed as a one-garment solution for moms' childcare and wellness needs.
SARATOGA, Calif. (PRWEB) February 26, 2020
The Momgeni Jacket, the world's first jacket designed to replace heavy diaper bags and handbags to help reduce shoulder and back strain that also offers more than 50 features to make childcare easier for moms everywhere, is now available on Kickstarter.
Designed by California mom and Momgeni LLC's CEO Sunitha Bhaskaran, the Momgeni jacket has several features that allow moms to evenly distribute the weight of all the things they need to carry to not only take care of their young infants, but also themselves. It also offers women a classic jacket design with trendy features that make it a universally flattering and stylish choice for women everywhere – with three styles that can accommodate a variety of weather conditions and climates.
"We came up with the jacket name by combining the words 'mom' and 'genie,' with genie being a metaphor for the fantastic features in our jacket that aid moms," Bhaskaran said.
Bhaskaran says she became fascinated with functional clothing when she was working on her Masters in Apparel Merchandising, then came up with the idea for Momgeni when she became a mother.
"The hardships I faced when it came to taking my baby out for a walk made me realize that there needed to be a healthier way for moms to carry childcare items and reduce back and shoulder strain, so I decided to design a wellness solution with childcare features while keeping mom's health in mind," Bhaskaran said. "After getting feedback from hundreds of moms, the Momgeni jacket was designed and developed as a one-garment solution for moms' childcare and wellness needs."
She says there are three main uses for the jacket:

During pregnancy, because it has a maternity cover and a pregnancy wedge pillow;
During the postpartum period, because it has childcare accessories and wellness solutions; and
During travel, because it comes with 23 pockets to hold various travel essentials.
"Overall, the jacket's omni-directional weight balance system helps prevent muscle aches by evenly distributing the weight of the items women need to carry for their infants," she said. "Momgeni has more than 50 built-in features including pockets for carrying a smartphone, iPad, keys, sunglasses and more. Other features include a nursing cover, an infant weather cover, a diaper clutch, lumbar roll, neck support and an aromatic wellness bracelet for stress relief. The jacket also can be converted into a tote. In short, Momgeni makes childcare and self-care easy and accessible for any mom-on-the-go."
The Momgeni Jacket has already received some recognition, voted the runner-up in the Fashion and Travel Accessories Design Category at A' Design Award and Competition held in Como, Italy last year – an award that highlights the excellent qualifications of best designs and concepts worldwide.
For more information, or to purchase the Momgeni Jacket at an early-bird discount during crowdfunding, visit the Momgeni Jacket Campaign Page on Kickstarter.
About Momgeni
Momgeni LLC is a California based apparel company that has developed the world's first jacket with childcare and wellness features, designed just for moms. Launched in 2020, the Momgeni jacket is available for pre-order worldwide on Kickstarter. Momgeni LLC is dedicated to bringing joy and wellness to every mom in the world. Momgeni LLC is headquartered in Saratoga, California. For more information, visit http://www.momgeni.com.