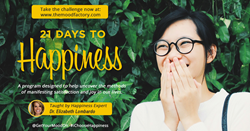 Happiness is a skill that anyone can learn and improve upon. The problem is, as a society, we practice happiness in all the wrong ways.
RENO, Nev. (PRWEB) October 03, 2018
One of the greatest barriers to our happiness is being out of the present moment, and research suggests this averages almost 50% of the time for all of us. Studies show we can become more present through sensory engagement. The Mood Factory has partnered with celebrity psychologist Elizabeth Lombardo to develop a 21 Days To Happiness Course, with a challenge to remind consumers to practice daily happiness habits, including sensory engagement. As Shaq's "Head coach for Happiness", she is well qualified for the task.
The Course provides research-supported instructions on how to create and continue a mindset of happiness and features quick videos which outline a daily practice on which to focus and an action step for that day.
According to Dr. Lombardo, "Happiness is a skill that anyone can learn and improve upon. The problem is, as a society, we practice happiness in all the wrong ways. We think happiness will come from external events like making more money or having people admire you. That just sets you up for disappointment."
"My grandmother used to teach a course in college called how to play the piano despite years of practice," Dr. Lombardo added. "She would help people get rid of the skills that were ineffective and teach them the ones that were helpful. And when her students practiced, as you can imagine, they could not help but be better at playing the piano. I teach people how to be happy despite years of practice."
As an added bonus, 10% of all profits from The Mood Factory Happiness course and product line goes to teach Hope around the world, through the partnership with Hopeful Minds and iFred. This program is free, available to all, and aims to reduce depression, anxiety, and suicide rates in youth by teaching evidence-based social and emotional learning skills to youth at a critical age in development.
To learn about the happiness course and sign up, please visit themoodfactory.com
About Kathryn Goetzke
Kathryn Goetzke's initial brand, Mood-lites, moved over 9 million units, brought in 35 million dollars for retailers, and raised over 1 million dollars for charities. She is a seasoned marker, with over 25 years in strategic marketing, sales, technology and consumer products for both small and large companies. She has a BA in Psychology, and Masters in International Business with additional coursework on colors, scents, moods, and Happiness.
Along with serving as the Chief Mood Officer at The Mood Factory, Kathryn Goetzke is also a global depression advocate and founder of International Foundation for Research and Education on Depression (iFred), as well as on the advisory boards for FundaMentalSDG, the Global Mental Health Movement, and Y Mental Health. iFred aims to shine a positive light on depression and eliminate the stigma associated with it through prevention, research and education. iFred uses positive imagery and branding; the color yellow and a sunflower is their instantly recognizable, international symbol. IFred works on prevention through teaching hope to young kids, via Hopeful Minds (previously Schools for Hope), based on research it is a teachable skill.
About Elizabeth Lombardo, Ph.D.
Considered NBA star Shaquille O'Neal's "Head coach for Happiness", Dr. Elizabeth Lombardo is on a mission to free people from their inner critic to create the health, wealth and happiness they crave. Elizabeth has worked with several Fortune 500 companies, both presenting opening keynotes as well as running smaller workshops and exclusive executive roundtables with audience sizes ranging from 20 to over 3,000. Her ability to help people unlock their own, unique personal happiness code has made her America's most interviewed celebrity psychologist, with over 100 radio and TV appearances on shows such as The Today Show, Good Morning America, Dr. Oz, Steve Harvey and Fox News. A Licensed Practicing Psychologist with a Ph.D. in Psychology and a Master's degree in Physical Therapy, Dr. Lombardo is also the author of the bestselling book, Better Than Perfect: 7 Strategies to Crush Your Inner Critic and Create a Life You Love.
About The Mood Factory
The Mission of The Mood Factory is Simple: To Improve Moods. It does that by inspiring individuals how to engage senses to improve well-being. Being present is one of the fastest ways to feel better and lead healthier, more productive fulfilling lives. The Mood Factory is currently launching a 21-Day to Happiness course, and launching a new line of scent products based on how the sense of smell impacts mood states including: Energy, Tranquility, Happiness and Serenity.