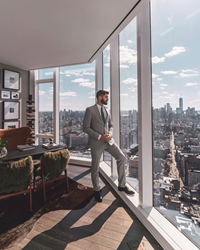 "Joining Nest Seekers is a great honor and privilege. Eddie is one of the most hardworking and tenacious people I've met in the real estate business." - Erik Conover
NEW YORK (PRWEB) October 05, 2020
Nest Seekers International, a world-renowned real estate firm with Headquarters in New York and London, and 25 other locations around the globe is announcing today the addition of Erik Conover, the agent with the largest luxury real estate YouTube following in the world, to the brokerage.
CEO Eddie Shapiro has long known Erik Conover to be ahead of his time, resourceful, and someone who can deliver content and results in the digital age. The decision to bring Erik into the brokerage was a natural progression and a collision of passion and capabilities. Nest Seekers' expertise in the luxury market and worldwide reach collided with Erik's worldwide persona as both an agent and YouTube star with nearly 1.5 million subscribers.
Erik's accomplishments and reach speak for themselves. A graduate from Northeastern University with degrees in Public Advocacy and Rhetoric as well as a minor in Business Marketing, he's been able to leverage his knowledge into marketing his own business through an extremely successful YouTube channel that has garnered over 111 million views since inception. His "Luxury Listings" series has 26 episodes that boast a total of over 64 million views, making each episode average 2.47 million views. Luckily for Nest Seekers, those views translate to deals, as Erik has been a part of hundreds of millions in sales indirectly from his tours.
The team is launching specific programs and shows positioned to create massive exposure to Developers and Development projects in New York City, The Hamptons, Miami, Los Angeles, and London as well as High-End properties in those regions and more. Erik spent the past few years building a well targeted loyal audience of buyers and sellers and general real estate lovers. The first two shows are called "ICONS", which will give an inside look at the most luxurious properties in the World and the second "LEGACY" showcasing prominent development projects and the most prolific developers who envision and construct them.
"We are thrilled to welcome Erik into the Nest Seekers family. He has amassed an incredibly large audience and viewership with his YouTube channel and his "Luxury Listings" series. He's really tapped into a new innovative way to market and brand yourself and has created a massive following along the way. His talent in understanding brands, marketing and creating the highest quality of real estate content as well as selling homes will be a huge asset and great addition to the family." said Eddie Shapiro, Founding President and CEO of Nest Seekers International.
Erik Conover said that "Joining Nest Seekers is a great honor and privilege. Eddie is one of the most hardworking and tenacious people I've met in the real estate business. His experience, and vision of building and empowering great talent and brands within the firm as well his expansive knowledge of luxury and ultra-luxury markets makes this the greatest opportunity. I'm happy to have found my new home in the Nest Seekers family and am even more excited about what's to come. We have so many great plans and we are executing around the clock."
Speaking to what is to come for Nest Seekers and Erik, CEO Eddie Shapiro also said, "In service to our sellers and developers, we are constantly looking for ways to be innovative with outreach and to expand our broadcasting ability. We most recently did that through our Netflix show, Million Dollar Beach House, and in bringing Erik on, this is only the beginning. There is some much more to come as we reshape the world of real estate media."
Nest Seekers International is a game-changing firm in the rapidly expanding global real estate marketplace. The firm's hybrid tech & brand enabled model has inspired a new wave of thinking in the industry, and its approach to daring and unconventional marketing has elevated and revolutionized the way people think of real estate.
Nest Seekers International continues to expand with 25 offices and more than 1000 team members around the globe. Based in Manhattan, London, Beverly Hills, Brooklyn, Long Island City, The Hamptons, New Jersey, Miami, the Mideast and Asia.