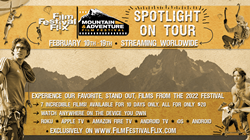 The Mountain & Adventure Spotlight On Tour offers up seven eclectic documentary portraits about idiosyncratic individuals whose commitment to their disciplines transcends sport, becoming a statement of individuality and personal identity.
LOS ANGELES (PRWEB) January 24, 2023
Last year, our Mountain & Adventure Film Festival (MAFF) unfurled its biggest, boldest edition to date, returning to in-person screenings at a new festival location in Mammoth Lakes, California and bringing an expanded streaming version of the festival online for global audiences via Film Festival Flix's robust streaming platform.
With the new year upon us, it is with great pleasure that we announce a return engagement of seven of our favorite films from the 2022 lineup, including last year's phenomenal Centerpiece Presentation film, Why We Walk, for a special, limited-time streaming encore event on February 10th-19th.
Streaming globally, the Mountain & Adventure Spotlight On Tour offers up seven eclectic documentary portraits about idiosyncratic individuals who have stepped outside the quotidian to engage with outdoor activity with such zeal and commitment that it transcends sport and becomes a statement of individuality and personal identity.
Presenting films on topics ranging from slacklining (Lapporten) to climbing (Legacy on the Muir) to bouldering (Inner Mounting Flame), environmental conservancy (Save Space Nugget), disability in sport (All the Way Up), and an intimate look at a female pioneer who reinvented packrafting (Sheri), the Tour has something for all audiences, even those with little interest in sports or the outdoor industry.
Of the tour lineup, MAFF Artistic Director Nick Bruno says, "The uniting thread present in each of these films is the indomitable human spirit. All of these fantastic films capture people who have found their purpose for being in outdoor pursuits and are, subsequently, living their best lives because of the very personal space that they've carved out within their disciplines. Revisiting these films feels like a privilege, an opportunity to witness as the subjects of these documentaries find (and experience) their bliss."
Mountain & Adventure Spotlight On Tour lineup:
All the Way Up
Australian Paralympian Sam Tait undertakes a journey to become the first paraplegic to summit and then ski down Australia's highest mountain Mt. Kosciuszko. A story of unrelenting power-of-will, and endless optimism coupled with fast-paced downhill action and breathtaking imagery from the roof of Australia. (39 mins.)
Inner Mounting Flame
The story of North Carolina musician and rock-climbing legend Mike Stam and the second ascent of his high country bouldering test piece, The Inner Mounting Flame. (25 mins.)
Lapporten
In July of 2021 a motley crew of the best highliners in the world heads up to the iconic
Lapporten in northern Sweden with one clear goal. They are going to put up a 2 kilometres (1.3 miles) long highline 600 meters above ground and then try to walk over it. If they succeed it will be a new world record. If they fail it will be an adventure of a lifetime. (48 mins.)
Legacy on the Muir
In 1965, legendary climbers TM Herbert and Yvon Chouinard climbed the Muir Wall on El Capitan while facing a brutal storm and not having a chance for a rescue. Fifty-five years later TM Herbert suffers from Alzheimer's disease and struggles to remember his iconic climb. TM's son, Tom Herbert, decides to attempt breaking the Muir Wall speed record to remember his father's astounding legacy. (25 mins.)
Save Space Nugget
Save Space Nugget is a story of one small town's population in British Columbia, Canada whom worked to preserve the environmental integrity and sustainability of surrounding old growth forests amongst a prevalent logging industry on Vancouver Island. (41 mins.)
Sheri
Sheri tells the story of Alpacka Raft founder Sheri Tingey, who navigated the male-dominated outdoor industry for decades before revolutionizing it with the design of the modern-day packraft. (29 mins.)
Why We Walk
WHY WE WALK follows the journey of three Black men, from across the globe, united to empower and de-stigmatize urban communities of color and their participation in the great outdoors. After years of city exploration, The Urban Hikers strive to introduce the power of walking to a community that has historically been underrepresented in this space. (55 mins.)
The Mountain & Adventure Spotlight On Tour streams February 10-19, 2023, exclusively on Film Festival Flix.
View the Tour trailer here: https://youtu.be/lVehCCFmGPo
Virtual passes are $20 and can be purchased via Film Festival Flix: https://filmfestivalflix.com/maff-2/purchase-tickets/
To view the entire lineup: https://filmfestivalflix.com/festival/mountain-and-adventure-film-festival/
Additional queries can be directed to nick@filmfestivalflix.com
Please attribute authorship to Film Festival Flix and/or cite this release as a source.
Film Festival Flix empowers all Festivals, Artists, and Audiences through a secure user-friendly streaming platform For more information about our Virtual Venue solution, and upcoming events, please visit FilmFestivalFlix.com