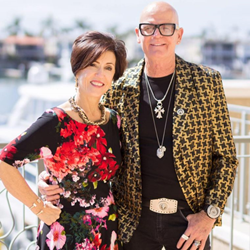 FORT MYERS, Fla. (PRWEB) September 12, 2019
Keith Hudson, co-founder of non-profit "The Charity Pro's", has announced the organization's latest initiative in support of children's charities around the globe. Hudson, the father of pop star Katy Perry, pledges that 100% of every dollar raised through this program, will go directly to the children's programs and partner charities.
The Music Pro's Charity Travel Network was developed to bring artists, bands, musicians, and fans, together with travel to support children's social causes. Every time a fan books a hotel, airfare, rental car or vacation package, the commission is donated to the fans choice of the artists supporting charities. The artist provides a list of their favorite charities or foundations, which allows the fans to support their causes in a way that makes a difference, all while saving money on their already planned travel.
The Charity Pro's, a 501c3 non-profit founded by Hudson and young entrepreneur Megan Maloney, advocate for children's health, poverty, child protection, gender equality, performing arts, and music education. "It's all about making a difference and expanding the opportunities for kids to live their best life," says Megan. "Our vision is that every child has the same opportunities, no matter what obstacle they are facing."
This is not the first collaboration between the duo, Maloney, now 22, founded the popular online travel site, Charity Pro Travel after losing family members to cancer at only 11 years old. Hudson, now a partner and CEO of Charity Pro Travel explains, "I first got involved because it was a business model with a purpose to help people, I have been in the ministry for 46 years, that's my line of work. However, it's our teams' dedication and commitment to helping others that drives the Charity Pro's to grow and expand."
The Music Pro's website will favor an enhanced user experience along with custom webpages for each artist that will feature their supporting charities, breaking news, artist bio, music videos and tour schedules with hotel deals in each city. "The best part, nobody can beat our prices, and I mean nobody," claims Megan. "Thanks to our partners at the Priceline Partner Network, our fan based hotel deal program feature rates up to 65% off published prices. We always provide the lowest-priced travel, exceptional customer service, and a trusted brand guarantee."
The Music Pro's Charity Travel Network is expected to launch this fall, just in time for holiday travel bookings."Technology-wise, we are completely ready to go, explains Hudson, however, we are still inviting artists, onboarding our charity partners and reaching out to potential sponsors and donors. It's just a blessing to be a part of helping these charities, it's a win win for everyone, the artist, the fans and especially the children."
For more information on being a part of the Music Pro's initiative or for sponsorship opportunities, please contact megan@thecharitypros.org