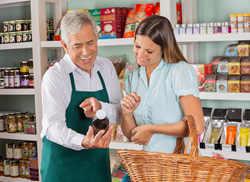 "Exceptional customer service in the retail store, along with merchandizing, timeliness, and knowledgeable sales associates, make the shopping experience rewarding. "
SAN JOSE, Calif. (PRWEB) September 17, 2018
San Jose based Jancyn Evaluation Shops, founded in 1980, and it's division Customer Perspectives, offers specialized mystery shopping programs designed specifically to measure consumer satisfaction with the in-person shopping experience. Data from mystery shopping analytics means that any customer-facing business can find the secrets to remain competitive with online vendors.
Per the Shopper-First Retailing report by Salesforce and Publicis.Sapient, approximately half of customers surveyed still prefer to make purchases at a brick-and-mortar store. This compares to 35% who prefer to do business using laptops and another 18% who favor utilizing a mobile device. The study utilized data of 6,000 consumers, e-commerce shopping data and mystery shopping audits. But the in-store shopper has a stipulation to their decision to visit a store.
In another report by Synchrony Financial titled Understanding Gen Z: Insights on their behavior, financial knowledge and spending patterns, findings discover Gen Zers love shopping in-store and believe the shopping experience is as important as the product itself. While they will spend time researching a product online, this generation of shoppers wants to see, touch and try the item before making a purchase.
This puts the spotlight on Customer Service, with the main reason cited for preferring an in-person shopping experience.
According to Vicki Dempsey, Vice President for Jancyn, "Exceptional customer service in the retail store, along with merchandizing, timeliness, and knowledgeable sales associates, make the shopping experience rewarding. Without mystery shopping feedback to ensure the customer experience is a positive one, businesses may be missing opportunities to build brand loyalty and create the shopping experience required to compete with online vendors."
Today's shoppers have high expectations for customer service. They want retailers to stand by their products and offer a good return policy. It's also important that they have an enjoyable shopping experience in a clean, safe, organized store.
Ms. Dempsey goes on the say, "Sometimes the best customer service is simply listening to the patron and making sure their specific needs are met, such as time in line or ease of store organization. Our focused mystery shopping programs are custom designed for our customers so they can measure touch points that matter to their customers. Employee training and best practices can then be refined and enhanced with the comprehensive data we provide to them."
In order to remain competitive in an ever-expanding Internet marketplace, the in-store customer perspective is key. Measuring the level of service via a mystery shopping program means retailers can keep their finger on the pulse of the experience in a pro-active way. Objective, anonymous, third-party assessments provide the information needed to ensure expectations for customer experience are met.
Jancyn is a member of the Mystery Shopping Professionals Association (MSPA-NA). Member companies work with their clients to establish mechanisms to measure and improve levels of service.
The MSPA is a global association of companies united as a common body for the purpose of strengthening the mystery shopping industry through combined efforts and actions.
Vicki Dempsey of Jancyn, Inc. can be reached at vicki@jancyn.com.