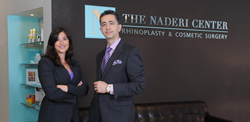 CHEVY CHASE, Md. (PRWEB) May 21, 2021
The Naderi Center, Washington D.C.'s leading cosmetic surgery practice, is proud to announce that they are winners of a 2021 Modern Luxury Best of DC award from DC Magazine. Readers of DC Magazine were given the chance to vote for each of the award categories throughout April. The process was completely voluntary and unsolicited.
"We are honored to be selected by DC Magazine's readers for this award." Read a joint statement by the center's doctors, including Drs. Anderson, Kulak, Naderi, and Snodgrass. "We strive to bring patients the best in technological innovation for the latest and most effective cosmetic surgery and non-surgical solutions. Helping patients look and feel their best with natural results is our passion and it feels great to be recognized for this by patients and those familiar with our practice. We measure our success by patient happiness."
Published by Modern Luxury Media, DC Magazine editors were responsible for tallying the results of the award categories but all votes were cast by readers themselves. Category winners will be announced in the July/August "Best of City" issue of DC Magazine which will be published online by July 1, 2021.
Doctors at The Naderi Center are known for their ultra-specialization in their own unique and focused areas of plastic surgery and non-invasive cosmetic procedures. Ultra-specialization reduces risk for patients and provides patients with the best possible results by offering surgeons who are highly trained in their focused areas. All four of the board-certified doctors at The Naderi Center are considered top-tier medical professionals by their physician colleagues. Collectively, the team holds a long list of accolades including recently being selected as 2021 Top Doctors by DC Magazine's rigorous independent selection process.
Dr. Erica Anderson offers breast and body surgery at the center and Dr. Jessica Kulak's specialty is the treatment of the aging face and facial rejuvenation. Dr. Shervin Naderi specializes in rhinoplasty, and Dr. Alexandra Snodgrass is the center's expert dermatologist.
For more information about The Naderi Center physicians and the services they offer, visit the center's website at nadericenter.com.
About The Naderi Center
The Naderi Center is made up of a team of four experienced, Board Certified doctors who are highly specialized in providing cosmetic surgery and dermatology solutions for patients. With their unique approach and commitment to specialization, The Naderi Center has become one of the most specialized and unique plastic surgery and dermatology practices in the United States.