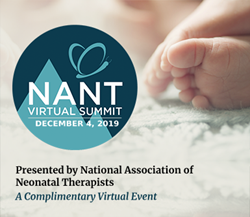 We are thrilled to offer the opportunity for our colleagues to learn directly from Dr. Als
CINCINNATI (PRWEB) November 25, 2019
The National Association of Neonatal Therapists (NANT) will host a live, 120-minute Virtual Summit with live Q & A on Wednesday, December 4th from 1:00 - 3:00 PM EST in webinar format.
The special guest presenter will be none other than the esteemed Dr. Heidelise Als from Harvard Medical School and Boston Children's Hospital. This presentation will inform participants of the importance of reading the newborn infant's behavioral language astutely. Participants will also learn about the ways that care and the environment support and protect or challenge and threaten the immature infant's brain development. The importance of the parents in nurturing and regulation of their infants at all times will be highlighted.
"This content, presented by the originator of the program, must be well understood and integrated by all neonatal professionals in order to collaboratively provide the best care possible for infants in the neonatal intensive care unit," states NANT Founder and President Sue Ludwig, OTR/L, CNT. "We are thrilled to offer the opportunity for our colleagues to learn directly from Dr. Als."
The Newborn Individualized Developmental Care and Assessment Program (NIDCAP) – Promise to Protect the Preterm Brain is a complimentary virtual event. It will include a Q & A session at the conclusion of the program, and a recording will be made available to all registrants.
This course offers CE Credit for OTs, PTs, SLPs and Nurses. Learners must attend and complete the entire presentation. Participants who complete the recorded presentation must also complete a learning assessment in order to receive CE Credit. No partial credit will be awarded.
"The structure of this annual online event is ideal for introducing highly relevant subject matter to a global audience," said Ludwig.
Attendees must register for The NANT Virtual Summit in order to attend the 120-minute webinar. Visit http://nantvirtualsummit.com to register and for more information. This is time sensitive, as the Summit takes place on Wednesday, December 4th.
The National Association of Neonatal Therapists (NANT) is an organization created specifically for neonatal occupational therapists, physical therapists, and speech-language pathologists. NANT provides multiple ways for neonatal therapists to connect, learn, mentor, and inspire while advancing this focused field of therapy on a global level.
Questions regarding CE credit should be directed to the National Association of Neonatal Therapists at info@neonataltherapists.com or (866) 999-5524.