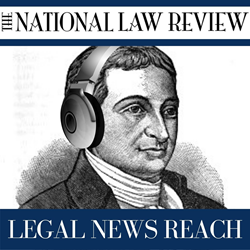 "Law firm marketers have a wealth of knowledge and experience that's often unique to the legal industry. Legal News Reach provides a forum for them to share their insights, discuss industry trends, and showcase examples of real-world experience." - Melanie Trudeau
CHICAGO (PRWEB) November 09, 2021
The National Law Review is excited to announce the launch of Legal News Reach, a new bi-weekly podcast that features guests with expertise in legal marketing, SEO, law firm best practices, and more. Hosted by NLR's Editorial Manager Rachel Popa, and Web Content Specialist Jessica Scheck, Legal News Reach highlights for listeners the latest legal marketing strategies to help them stand out and stand firm in the legal industry.
The first season of the podcast focuses on topics such as hiring and marketing in the legal industry, legal marketing budgets post COVID-19, the attorney-client relationship, diversity and inclusion initiatives (D&I) and law firm pro bono initiatives.
In the inaugural episode, Rachel and Jess discussed marketing tactics for law firms in the post-COVID work environment with Melanie Trudeau, Director of New Business & Digital Strategies at Jaffe PR.
"A few things I would like to see stick around would be giving some more autonomy to attorneys to just do their work effectively from a home office. They don't have to spend all that time getting ready to go to work, and juggling childcare. If you can create a lot more flexibility in the work environment, that's going to make firms competitive," Ms. Trudeau said.
To adjust to the challenges of COVID-19, the legal industry pivoted and made adjustments as to how they delivered their services and how attorneys work. However, as the pandemic continues, law firms that remain flexible will find it easier to stand out from their competitors. Legal News Reach provides a platform for legal professionals to learn from the top experts in the industry, as well as showcase their own expertise. Episodes are published and featured on the National Law Review website, which today is one of the highest volume business law publications in the US after over 10 years of steady growth.
"Law firm marketers have a wealth of knowledge and experience that's often unique to the legal industry. Legal News Reach provides a forum for them to share their insights, discuss industry trends, and showcase examples of real-world experience," Ms. Trudeau said.
Pivoting to changes brought on by the COVID-19 pandemic carried over into the second episode of the podcast, with Rachel and Jess discussing the COVID-19 pandemic's impact on legal marketing budgets with Guy Alvarez, Founder and Chief Engagement Officer of Good2bSocial.
"What we're seeing is really a shift in terms of budget from the real world into the virtual world. And as a result, we're seeing law firms spend a lot of their budget on digital marketing, ways that they can enhance their website, and how they can communicate to their clients and prospects their knowledge, their experience and basically stay top of mind and develop strategic relationships," Mr. Alvarez said.
Prior to the pandemic, many firms focused on live events, conferences and trade events. Now that meeting in person is more difficult, firms are pivoting to hosting more webinars and podcasts. Both lawyers and legal marketers can pick up tips from legal marketing leaders on Legal News Reach on how to stay connected with their clients, and highlight their firm's unique value proposition.
"The National Law Review's Legal News Reach podcast is a great platform for lawyers and legal marketers to learn the latest trends affecting the industry," Mr. Alvarez said.
In the third episode of the Legal News Reach podcast, Rachel and Jess spoke with Baker, Donelson, Bearman, Caldwell & Berkowitz President and Chief Operating Officer Jennifer Keller, and Chief Marketing and Business Development Officer Adam Severson about law firm management, D&I initiatives and attorney-client relationship building.
"I think from the law firm management perspective, there's a lot of interesting work going on right now in analyzing the changes in law firm management the last 18 months have brought us. I think what you're going to see looking 5 to 10 years ahead is younger, more diverse teams of leadership in firms," Ms. Keller said.
"D&I is one of those areas that I think we all recognize that we can all be better. It's an area that I think has been important for everybody. Without a clear roadmap and some specificity to it, we're not going to get to where we need to be as a firm and candidly, as an industry," Mr. Severson said.
Despite the challenges brought on by the COVID-19 pandemic, many law firms found silver linings as well, embracing new diversity initiatives that will have an impact for years to come. Legal News Reach builds off the National's Law Review's audience of over 2 million legal and business professionals to highlight the best practices of leading-edge law firms.
"It was great to be featured in the Legal News Reach podcast to share some of the great things Baker Donelson is doing. The National Law Review's audience has tremendous reach so it was great to be highlighted," Mr. Severson said.
The first four episodes of the first season of Legal News Reach are currently available on natlawreview.com, as well as major podcast platforms such as Spotify, Apple Podcasts, Google Podcasts, Breaker, Anchor.fm, Pocket Casts, Radio Public, Soundcloud and more. Listeners can also find Legal News Reach podcast clips on the National Law Review YouTube channel. The first season of the podcast includes 10 episodes, with the second season planned to launch in 2022.
About the National Law Review: The National Law Review is a daily legal news website with a mission to provide objective and practical news and analysis. The National Law Review's news platform was developed by corporate attorneys and is the online descendant of a legal publication tracing its roots back to 1888. With the talents of our own writers and contributing authors, the National Law Review has grown into one of the highest volume business law publications in the U.S., more than doubling our traffic volume since 2018. Visit us at http://www.NatLawReview.com