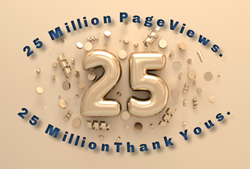 25 Million Pageviews is a credit to our talented contributing authors and the resourcefulness of the National Law Review's editorial team during the COVID-19 crisis
CHICAGO (PRWEB) January 19, 2021
The National Law Review (NLR) exceeded 25 million page views in 2020, a significant uptick in traffic over previous years. This increase in traffic was largely due to exceptionally well-written and timely COVID-19 associated thought leadership contributed by law firm attorney authors.
The National Law Review's 2020 readership numbers continue a staggering level of growth in readership over the last few years. In 2019, the National Law Review achieved 7 million page views, and in 2018 NLR secured 4 million page views. The NLR's readership growth in 2020, represents a 527% increase in page views from 2018, and a 258% YOY increase from 2019.
Jennifer Schaller, Managing Director of the National Law Review:
"Our talented staff quickly pivoted to reconfigure our main news website to rapidly publish and syndicate our law firm partner's contributed content to meet the unprecedented demand from individuals and business professionals seeking reliable and vetted information about COVID-19's impact on their children's school, employment or business. We consistently receive great feedback about editorial team's turn-around time and responsiveness, but I cannot say enough about our team's dedication and innovation in getting the news out there to meet the concerns of our readers."
Early in 2020 the National Law Review's US-based publication staff actively monitored the ominous trends surrounding COVID-19, and formulated work-flow tweaks to best provide our readers with timely Coronavirus news. In February, the NLR redesigned our main news web site and enhanced our daily E News-Bulletins to meet the need of readers for COVID-19 related news and legal analysis. In 2020, the National Law Review published roughly 20,000 articles, and 6,000 of those articles were Coronavirus related.
COVID-19 also presented law firms unique operational challenges met by progressive firms with collaboration that crossed practice groups to provide interdisciplinary Coronavirus legal news which was exceptionally well received. Additionally, since attorneys were unable to see clients in traditional, face to face venues, they were able to stay top of mind by providing legal analysis and compliance guidance through timely thought leadership.
The National Law Review's 6,000 articles coving a range of COVID-19 topics were also featured by professional groups including on SHRM.org, various news aggregators including Google and AppleNews and on numerous governmental news services. Our contributors' analysis also was featured by journalists at The Washington Post, The Atlantic and NPR.
In December of 2020, the National Law Review recognized the work of over 70 attorneys, law firms and professional services firms though the NLR's annual Go-To Thought Leadership awards. The National Law Review recognized 7 attorneys and law firms for their contributions related to COVID-19, the Paycheck Protection Program (PPP) or other COVID-19 related legislation, both on the state and federal level.
The National Law Review Go-To Thought Leadership awards are highly selective and we wanted to recognize articles with exceptional readership which contributed to the National Law Reviews 25,000,000 page views in 2020.
Below is a select list of the articles published on the National Law Review that exceed 100,000 page views:
● Congress Seeks to Extend Many CARES Act Unemployment Benefits in Pandemic Relief Package
from Evandro C. Gigante, Harris M. Mufson, Allison Lynn Martin, and Jacob P. Tucker of Proskauer Rose
● Vaccinate or Terminate – Mandatory Vaccination as Workplace Policy from Jennifer B. Rubin of Mintz
● Paycheck Protection Program Round 2: The Highlights by Michael A. Zalay and Jeffrey M. Schwartz from Much
● No Mask, No Service? ADA Considerations for Business Owners Requiring Face Masks in Retail Stores from Jillian de Chavez-Lau and Joshua A. Stein of Epstein Becker Green
● Illinois Unemployment Benefits and COVID-19–Related Changes: What Employers Need to Know from Melissa A. Ortega, Deborah H. Share, Cyle R. Catlett and Hillary M. Sizer of Ogletree Deakins
● More PPP Funding Approved, Questions Remain Unanswered from Jennifer P Wolff of Godfrey Kahn
● Summary of CARES Act from Kevin H. Sutton,S. Gordon Hill, Kirsten L. Vignec, Bret Hamlin, Matthew F. Hall and Zachary W. Watt of Hill Ward Henderson
● The Emergency Coronavirus Bill: What Employers Need to Know Regarding the Legislative Response to COVID-19 by James J. Plunkett of Ogletree Deakins
The following is a select list of articles that exceeded 50,000 page views:
● Shelter in Place Orders: Are You an "Essential Business"? by Gregory M. Chabon, Christopher W. Jones, Ripley Rand, Martin L. Stern and Howard King of Womble Bond Dickinson
● What Employers Need to Know About HIPAA by Ryan T. Siehr of von Briesen
● Stimulus Payments—When Do I get Mine? by Rosemary D. Durkin of Stark & Stark
● Employment Law Questions Related to the COVID-19 Pandemic by Lisa Handler Ackerman of Wilson Elser
● Navigating Employer Obligations to Provide Employees with Masks, Face Coverings by Tressi L. Cordaro and Cressinda D. Schlag of Jackson Lewis
● What Employers Need to Know About H.R. 6201: The Families First Coronavirus Response Act by Denise Giraudo and Ryan L. Munitz of Sheppard Mullin
● The CARES Act and the Self-Employed: A Primer by James N. Boudreau, Kelly Dobbs Bunting, Katie P. Reed and Monica P. Schulteis of Greenberg Traurig
● Reopening the Economy in the Midst of COVID-19: What Happens If an Employee Refuses to Return to Work? by Taylor Eric White of Foley Lardner
● USCIS Suspends Interviews and Premium Processing for Cap H-1B Cases, Consulates Suspend or Limit Visa Interviews by Kimberly A. Clarke, Nina Thekdi and Yvonne Kupfermann of Varnum
Eilene Spear of the National Law Review will be discussing the planning and strategy behind NLR's increase in traffic with Guy Alvarez of Good2Bsocial on the January 26th Legal Marketing 2.0 podcast. Subscribe and download the Legal Marketing 2.0 podcast here when released. For a deeper dive, Jennifer Schaller of the National Law Review is teaming up with Good2Bsocial for a webinar in the next few weeks, discussing SEO strategies to maximize readership of law firm thought leadership.
###
About the National Law Review: The National Law Review is a daily legal news website with a mission to provide objective and practical news and analysis. The National Law Review's news platform was developed by corporate attorneys and is the online descendant of a legal publication tracing its roots back to 1888. With the talents of our own writers and contributing authors, the National Law Review has grown in one of the highest volume business law publications in the US. Visit us at http://www.NatLawReview.com