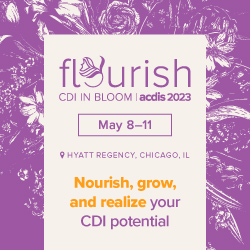 "It is the attendees and the enthusiasm they bring, their willingness to learn, share, and grow. I am invigorated by the networking, the birth of lifelong friendships, and the emergence of new leaders."
BRENTWOOD, Tenn. (PRWEB) February 06, 2023
The Association of Clinical Documentation Integrity (ACDIS) is holding its 2023 national conference May 8–11 at the Hyatt Regency in Chicago, Illinois. The 2023 ACDIS national conference provides opportunities for attendees to flourish personally and professionally in their clinical documentation integrity (CDI) role. With five tracks of unparalleled education, there are more than 50 sessions for attendees to choose from to nourish their professional soul, cultivate plans for personal and staff development, and create a CDI program that will blossom.

Track 1: Clinical and Coding. A much-loved conference staple that includes core clinical and coding concepts that are vital to those engaged in ongoing medical record reviews. It's perfect for those new to CDI, as well as for those who wish to expand or refresh their knowledge.
Track 2: CDI Master Class. For those wishing to expand their professional skills and explore advanced concepts in CDI.
Track 3: Quality and Regulatory. Explore the ways regulatory initiatives affect CDI practices and the ways programs are meeting new challenges by examining how documentation affects quality-of-care outcomes.
Track 4: Management and Program Development. Devoted to expanding program parameters and innovating CDI staff/management experiences and expertise.
Track 5: Innovation and Expansion. An exploration of cutting-edge advancements, including nontraditional settings, concurrent coding, data analytics, and outpatient CDI.
ACDIS Interim Director Laurie Prescott, RN, MSN, CCDS, CCDS-O, CDIP, CRC, reflects on what is so special about the ACDIS conference: "It is the attendees and the enthusiasm they bring, their willingness to learn, share, and grow. I am invigorated by the networking, the birth of lifelong friendships, and the emergence of new leaders." She adds, "The only thing better than seeing old friends is introducing them to new ones and watching as each ignites the passion for all things CDI in the other."
Prescott is one of the featured keynote speakers at the 2023 conference with a session titled "The Choice to Flourish." The other keynotes include:

"The Importance of Being … YOU: Lessons in Authenticity"—Brian Murphy (former ACDIS director)
"Leading with an Inclusive Lens: Achieving Organizational Synergy with Diversity and Inclusion"—Jermaine M. Davis, PhD
"Flight 2022–2023: Destination Uncharted Territory"—Amelia Rose Earhart
New for 2023 are special networking meetups hosted by ACDIS CDI instructors and staff to facilitate networking and problem-solving. Starting on Tuesday, May 9, there will be lunch discussion groups dedicated to outpatient CDI, pediatric CDI, CDI educators/second-level reviewers, and new/aspiring leaders. On Wednesday, May 10, attendees can make new friends and meet local(ish) colleagues during the first state chapter/networking group day or learn more about ACDIS committees.
ACDIS is also excited to bring back the in-person ACDIS Symposium: Outpatient CDI May 7–8 for the first time since 2019. The Symposium will be held alongside The Physician Advisor's Role in CDI Preconference, with two tracks providing beginner or intermediate/advanced education.
To learn more about the 2023 ACDIS conference, visit https://www.acdis.org/2023conference or contact a Customer Service representative at 800-650-6787 x4005 and HCEvents@hcpro.com.
###
About ACDIS
The Association of Clinical Documentation Integrity Specialists (ACDIS) is the nation's only association dedicated to the CDI profession. As the premier healthcare community of CDI professionals, ACDIS shares the latest tips, tools, and strategies to implement successful CDI programs. ACDIS also provides continuing education, certifications, training, networking events, CDI resources, and opportunities for professional growth. Learn more at https://acdis.org/.
About HCPro
For over 34 years, HCPro, a division of Simplify Compliance LLC, has specialized in providing the latest healthcare regulatory information through industry-leading publications, continuing education, online coding platforms, instructor-led training, events, consulting services, and more to deliver consistent training, achieve compliance, and maximize workflow efficiencies, resulting in measurable performance and financial improvements. Visit http://www.hcpro.com/.