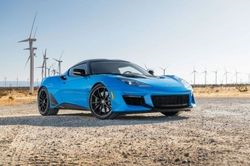 NORTH MIAMI BEACH, Fla. (PRWEB) November 19, 2021
Customers in and around the North Miami Beach area in Florida who love supercars can rejoice now. The extremely fast 2021 Lotus Evora GT is now available for purchase at the Prestige Imports premium cars dealership. This sleek, stylish and elegant supercar has an impressive aerodynamic exterior design that enables the car to stay in complete control at very high speeds.
The 2021 Lotus Evora GT comes with a water-cooled 3.5-liter Supercharged V6 engine under its hood. The available Sports Ratio 6-speed manual transmission ensures a smooth transition across gears. The car can offer a maximum engine power rating of 410 hp and a 295 lb.-ft. of engine torque rating. With a top speed of 186 mph (298 kph), this supercar can comfortably clock 0-60 mph in just 4.1 seconds. In addition to these, the car comes with a host of technology upgrades such as an Alpine Audio system, in-built navigation, Apple CarPlay®, Android Auto™, a 7.0-inch touchscreen and more. This sure is a dream car for supercar enthusiasts.
Kindly visit prestigeimports.com to learn about the dealership and its services. For more information on this new 2021 Lotus Evora GT, please contact the dealership sales team by phone at 833-290-6287 or visit them at Prestige Imports, 14780 Biscayne Blvd, North Miami Beach, FL 33181.