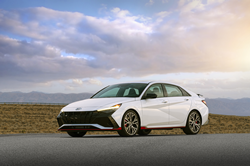 MUSKOGEE, Okla. (PRWEB) May 17, 2022
Individuals, residing in and around the Muskogee area in Oklahoma, who want to purchase the 2022 Hyundai Elantra can now buy the same at the James Hodge Hyundai dealership. Before making the purchase, they can test drive the 2022 Hyundai Elantra to experience the real feel of driving the vehicle on the road.
Starting at a mere $20,200, the 2022 Hyundai Elantra is a compact sedan that comes with a stylish exterior body and several performance-enhancement features. Under the hood of the vehicle rests an Inline four-cylinder cylinder engine that displaces 2.0 liters, generating a maximum of 147 horsepower and 132 pound-feet torque. Engine power is routed to the front axle of the 2022 Elantra via a Smartstream® Intelligent Variable Transmission system.
Moreover, the vehicle is laden with an array of robust tech elements and state-of-the-art safety and driver-assistance features. All in all, the 2022 Hyundai Elantra appeals as a steal deal for those who are in pursuit of a compact sedan that offers excellent value for money.
Interested customers can visit the jameshodgehyundai.com website to discover about the coupons and vehicle services offered by the James Hodge Hyundai dealership. For more information on the new 2022 Hyundai Elantra, customers can drop by the dealership at 1330 North Main Street, Muskogee, Oklahoma 74401 or contact 918-687-3646.