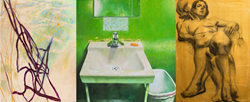 SEATTLE (PRWEB) January 22, 2020
Gage Academy of Art, one of Seattle's most beloved art institutions, is starting the new decade with 2020 Visions: Gage Academy of Art at 30, an art exhibition on view at the Washington State Convention Center, Seattle from January 9 through April 13, 2020.
Celebrating Gage's 30th anniversary, 2020 Visions embodies the spirit of the school's past, present and future through a selection of 70 artworks by 40 of its instructor-artists who, with their passion and dedication to teaching, partake every day in crafting the school's ethos and vision. Working in a broad range of mediums ranging from oil on canvas and watercolor, to drawing, printmaking and sculpture, the Gage instructors share daily with their students not only techniques painstakingly honed but the eye-opening skill of learning to see.
"At its inception, I could have only dreamed of the success that Gage has accomplished today," stated co-founder Gary Faigin. "2020 Visions truly exemplifies the ethos of not only Gage, but the community as well. The art showcased in this exhibition is both visually intriguing as well as symbolically poignant. I am honored to have these artists instructing the next generation at Gage."
Gage is best known for its unique atelier programs, adult classes and workshops, as well as its dedication to providing equal access to art for all youth, exemplified by the Teen Art Studio, a weekly, free, safe space for disadvantaged and at-risk teens to create art and express themselves. Gage's tireless commitment to improving and including all walks of life in their learning community is one of the cornerstones of their continued success.
"Gage was founded on the inspiring core belief that artists are made, not born," remarked executive director Stefano Catalani. "That is a profoundly democratic belief! By cultivating our skills of observation and perception we develop critical thinking, awareness of ourselves and above all, of others. Today, more than ever before, these are much needed qualities. As we look ahead at the next 30 years, Gage will continue to serve the community by offering access to art as a profound and transformative journey."
The artists featured in 2020 Visions represent an ebullient cross-section of the Pacific Northwest art scene and capture, with their individual artistic practices, the vitality and vision of Gage Academy at this juncture in time. The public is invited to experience this momentous exhibition free of charge, every day at the Washington State Convention Center, and celebrate the 30th anniversary of Gage's vibrant learning community in Seattle.
Featured Artists:
Juliette Aristides, Kai Carpenter, Larine Chung, Tiffany Dae, Margaret Davidson, Riley Doyle, Abigail Drapkin, Justin Duffus, Charles Emerson, Nicholas Enevoldsen, Edie Everette, Gary Faigin, Geoff Flack, Grace Flott, Barbara Fugate, Klara Glosova, Aron Hart, Tom Hoffman, Linda James, Mark Kang-O'Higgins, Marcus Dónal O'h'Úiggín, Patrick LoCicero, Ray Mack, Mike Magrath, Dominique Medici, Scott Méxcal, Barbara Noah, Jim Phalen, Mardie Rees, Christopher Remmers, Jeffrey Simmons, Tenaya Sims, Brian Snoddy, Misa Steinmetz, Elijah Strongheart Evenson, Kimberly Trowbridge, Ryan Weatherly, Suze Woolf, Junko Yamamoto, and Hamid Zavareei
About Gage Academy of Art
Gage Academy of Art (http://www.gageacademy.org), a 501(c)(3) non-profit in Seattle, is celebrating 30 years as a vibrant extended-learning and contemporary art center, providing community-based artistic development for students of all ages and abilities. Guided by the belief that artists are made, not born, Gage educates, enriches, and transforms the community through the visual arts. Gage offers instruction in the principles of drawing, painting, sculpting and printmaking through classes, workshops, and 7 unique Atelier programs of national renown. The school is home to art lectures, exhibitions and community events.