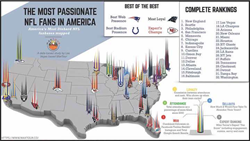 LAS VEGAS (PRWEB) January 29, 2021
The NFL's most passionate fans are in New England in this new data-based study by MaxTour (https://www.maxtour.co/passionate-nfl-fans/)
This study, which ranked NFL fan bases on their web presence, attendance, loyalty, sellout price, and expert score, ranked the fan bases from 1 to 32.
"Our staff was super excited for the start of NFL football in Las Vegas this year," said Matthew Meier, MaxTour's Founder & Director. "There was a lot of back and forth between our employees on which team had the most passionate and loyal fans led us to end the discussion once and for all. This study is the result."
Analyzing thousands of data points from the teams' social media accounts, attendance figures, correlation between attendance and standings, and two already completed studies, this comprehensive study discovered passionate fan bases in non-major markets like Minnesota, Carolina, and Indianapolis.
Altogether the study lists the most passionate fans in five Categories
Web Presence: New England Patriots
Attendance: Indianapolis Colts
Loyalty: Carolina Panthers
Sellout Score: LA Chargers
Expert Score: Kansas City Chiefs
The study is the first to include the important loyalty category into the final rankings. This helps separate the fans who support their team, no matter how they are faring in the standings.
Poor scores all around hurt the Tampa Bay Buccaneers and Washington Football Team. Note that all data was collected prior to the 2020 season.
To download the infographic in high resolution: https://www.dropbox.com/s/s0yxsenyu9u1imw/MostPassionateFansintheNFL.jpg?dl=0
ABOUT
MaxTour is a Las Vegas-based tour company that helps travelers visit world-class destinations like the Grand Canyon and Antelope Canyon.For more information, visit: http://www.maxtour.co
CONTACT
For questions about the report or a comment on the findings, contact Matthew Meier at matthew@maxtour.co 702-907-1886.