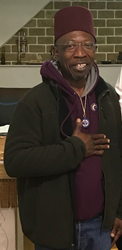 Moses-EL's attorneys, Johnson & Klein, secured a successful acquittal in 2016 as expected in his innocence. However, the legal remedy accrued from a 28-year wrongful sentence and the near-death experiences that accompanied it call for more than just acquittal.
DENVER (PRWEB) February 09, 2020
Clarence Moses-EL allowed AYBOS to capture his former attorney Jennifer Sullivan- Hendricks talking about his judicial trauma of serving over 28 years of wrongful incarceration (Moses-EL was acquitted in 2016). AYBOS Communication Director calls it a "A travesty of justice yet a necessary evil". The travesty is in the compounded judicial trauma, destruction of evidence, inhumane treatment and disregard for his basic human rights. Most disturbing is that the prosecutorial misconduct, blatant abuse of power and direct violation of his Constitutional Rights originate from the Colorado State Judiciary System.
Moses-EL, born in Baltimore Maryland, decided to move to Colorado to give his wife and family a chance at a better life. In 1987, he was wrongfully convicted of a brutal rape, and it all came to a terrifying halt. From 1987 until 2016, Moses-EL experienced judicial trauma that caused near death events while unjustly incarcerated for the next 28 years. These blatant judicial misconducts and inhumane judicial actions would change him, his wife and children's lives forever. The story of Moses-EL has been in the news and the narrative has been covered extensively, but there's another side to the story.
What most people do not fully understand is how Moses-EL mentally freed some of the worst inmates of their own destructive states of mind. He encouraged them to become law abiding, educated citizens, including AYBOS Marketing business developers. Moses-EL changed a significant number of offenders' lives while incarcerated. His fraternal brotherhood demanded excellence out of its members. He would not only hold members accountable, but also inspired the best out of every offender he encountered. Moses-El says that he told hundreds of CDOC offenders "Come all of you heavy laden in your contemporary problems, and I will give you rest."
One of these individuals was AYBOS Marketing Communication Director Marchell Taylor-Bey. Taylor-Bey took a special interest in the Moorish Science Temple of America (MST of A) in 2000. He was accepted under the guidance and curriculum that Moses-EL introduced and proclaimed his nationality as a Moorish-American under The MST of A soon after.
AYBOS has crafted the Moses of Our Time Initiative to promote how the Moorish Science Temple of America reformed some of the worst of individuals. Gang members, lifers and individuals who lost hope in themselves could find refuge in the MST of A. Thousands of inmates seeking guidance for a better way of thinking found a platform for change in Moses-EL's teachings.
Upon chartering, the MST of A became one of the most effective programs in the correctional facilities. The MST of A embodies both an educational tool and platform for individuals incarcerated to connect to. The program helps individuals understand their worth in themselves, the value in their family and community, including the correctional community. The MST of A helps build character with the principles of Love, Truth, Peace, Freedom and Justice that the world of production recognizes as human capital. The goal and mission of the Moorish Science Temple of America is to uplift fallen humanity and Moses-EL did just that on a mass level while incarcerated.
This lawfully chartered organization helps educate individuals in the areas of: Brain health, Mental Health, Nationality, Constitutional Law, History, Social Science, Finance, Entrepreneurship, Self-Awareness and Character Building. In Taylor- Bey's on words "It allows individuals to see themselves through the greatness of their own history and provides a curriculum that shows the possibilities of man."
Clarence Moses-EL was added to the National Registry of Exonerations in 2017, yet still experiences travesties of justice and constitutional encroachment based on his belief in his defense. While no amount of money can suffice for the years of incarceration Moses-EL spent, due justice is still imperative in his case. Moses-EL's attorneys, Johnson & Klein, secured a successful acquittal in 2016 as expected in his innocence. However, the legal remedy accrued from a 28-year wrongful sentence and the near-death experiences that accompanied it call for more than just an acquittal.
A fortunate turn is in Moses-EL's work in the lawfully chartered Moorish Science Temple of America. MST of A was developed for the uplifting of fallen humanity, and Moses-EL's efforts are paying off huge with AYBOS Marketing. The MST of A is where AYBOS Marketing's Taylor-Bey and C. A. Shively were both inspired to study and learn business. These studies led to the formation of the AYBOS Organization and ultimately the Rebuild Your Mind Challenge and Initiative.
Moses-ELs efforts are most prevalent in Colorado prisons as The Moorish Science Temple of America continues to grow, while his efforts with AYBOS are taking shape through The Rebuild Your Mind Challenge. Watch the full video of Moses-EL's RYM Challenge video as he challenges someone we all should challenge, watch the video here: https://youtu.be/LlK7z3jpQzA
Follow this story by going to @RebuildYourMindChallenge on Facebook, Instagram and Twitter.
Media Contact:
AYBOS Marketing LLC
(303) 219-0251