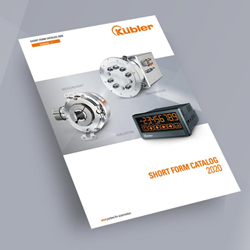 CHARLOTTE, N.C. (PRWEB) May 19, 2020
Kuebler Inc
NEW Short Form Catalog 2020 is now online available.
We would like to present you the new:
Complete catalog are based on the new product portfolio presentation: Measurement, Transmission, Evaluation.

Incremental Encoders
Absolute Encoders
Bearingless Encoders
Draw-wire Encoders
Inclinometers
Slip Rings
Counters and Process Devices
Print Version: Available 5th of June 2020
Download today from the below link: 2020 Kuebler Short Form Catalog Kuebler / Kübler Short Form Catalog 2020.