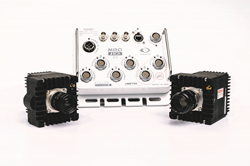 "With the introduction of the Miro C320J and C320, crash test centers can now rely on Phantom High-Speed cameras for a complete on-board and off-board solution," said Doreen Clark, Senior Product Manager for Vision Research.
WAYNE, N.J. (PRWEB) July 15, 2019
Vision Research, leading manufacturer of Phantom High-Speed cameras, introduces the Phantom Miro C320J and C320 to their extensive suite of on-board and off-board automotive crash test high speed camera solutions. Reaching 1,480 fps at a full 1920 x 1080 and over 90,000 fps on lower resolutions, the new Phantom cameras provide an ample frame rate for a wide range of auto safety applications and scenarios.
"With the introduction of the Miro C320J and C320, crash test centers can now rely on Phantom High-Speed cameras for a complete on-board and off-board solution," said Doreen Clark, Senior Product Manager for Vision Research. "They can use the same software and protocols with the Miro C320J or C320 on-board and the media-quality Phantom VEO4K used for off-board applications, greatly simplifying processing while getting great image quality. We're excited about the efficiency and quality this comprehensive approach brings."
The C320 and C320J have a 10-micron pixel, providing much-needed light sensitivity. They have an ISO rating of 10,000D for Monochrome and 2,000D for Color, as measured by the official ISO SAT 12232 methodology.
The Phantom Miro C320 and C320J joins a growing Phantom Miro C family: smaller, more focused cameras dedicated toward reliable image quality as well as the protection of those images through its study design. These Vision Research cameras are built off the backs of previous products, most notably the C210 and C210J, which are used throughout the automotive industry with practical applications in industrial and scientific fields. Additionally, these cameras were subjected to rigorous third-party testing to survive up to 170G shock and 24 Grms vibe in accordance with the demanding MIL-STD-202G protocol.
The C320 and C320J focus on image protection, especially in harsh environments. They use the same reliable battery as the C210 series and include 128GB of internal Flash. If power is lost during a test, the battery ensures that camera continues to operate, preserving the image as it downloads safely to the non-volatile Flash. They connect easily with the popular Miro J-Box 2.0 Junction Box for simple multi-camera functionality, operating with the same single software. The C320J connects to the J-Box with one simple, rugged cable that contains power, ethernet and signaling. For added flexibility, the C320 may be used as a stand-alone camera or can connect to the J-Box 2.0 with an adapter to the same single cable. Offering complete on-board and off-board flexibility, the Miro J-Box 2.0 also operates seamlessly with other Miro cameras and VEO cameras.
Key Specifications of the Phantom Miro C320J and C320
● 1,480 fps at 1920 x 1080
● 10-µm pixel for high light sensitivity
● Rugged, tested to 170G Shock and 24 Grms vibe
● Small – approximately 3-inch cubes
● Internal battery and Flash for image protection
● 8GB or 16GB memory
● Made in the USA
To find out the latest on Vision Research and its high-speed cameras, follow us on Twitter, LinkedIn, and Facebook. Check out our latest innovations at http://www.phantomhighspeed.com.
For a video demonstration visit: https://youtu.be/UPiiSEBrcaI
Ends
Click here to download a high-resolution image.
About Vision Research
Vision Research is a leading manufacturer of high-speed digital imaging systems that are indispensable across a wide variety of applications, including defense, automotive, engineering, science, medical research, industrial manufacturing, packaging, sports broadcast, TV production and digital cinematography.
The Wayne, N.J.-based company designs and manufactures the most comprehensive range of digital high-speed cameras available today, all of which deliver unsurpassed light-sensitivity, image resolution, acquisition speed and image quality.
Over the course of its 60+ year history, Vision Research has earned numerous awards in recognition of its innovations in high-speed digital camera technology and sensor design, including a technical Emmy and an Academy Award®.
Vision Research digital high-speed cameras add a new dimension to the sense of sight, allowing the user to see details of an event when it's too fast to see, and too important not to™.
Vision Research is a business unit of the Materials Analysis Division of AMETEK Inc., a leading global manufacturer of electronic instruments and electromechanical devices with annual sales of approximately $5 billion.