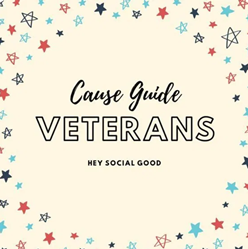 "The combination of our diverse, sustainable and ethical shopping choices and unique Cause Guides make Hey Social Good one of the most user-friendly social good platforms around. Good news is we can make different choices and have a direct say over the future of our health and planet's well-being"
SAN DIEGO (PRWEB) August 27, 2020
Hey Social Good just released their new Cause Guides to directly mash-up socially conscious values with simple "to-do" actions and shopping choices. The Cause Guides give robust information, offer easy actions to support socially conscious issues and highlight purpose driven businesses making positive impacts on people and the planet.
The enormous amount of confusing and often conflicting information presented on any single social issue or brand creates many obstacles for people to act. The new Hey Social Good Cause Guides address these obstacles by delivering authentically researched information on social issues and connecting cause with everyday tangible actions.
Co-Founder, Chris Reyes, stated that "consumer habits and business operations matter, and these Cause Guides show how social change can come in all forms, from making calls to your congress representative to self-educating with films to making a donation, and to shifting consumer purchases towards brands and companies with eco-friendly values, and every single one of these acts make an impact."
In each of Hey Social Good's Cause Guides, detailed actions and resources are provided. For example, the Veterans Cause Guide highlights simple actions to support veterans, such as buying from veteran owned businesses, volunteering as a grief counselor, and sending care packages with one click. The Food Justice Cause Guide shows the complex issues around food availability, human health and food sustainability. Beyond just a list of resources, the Food Justice Cause Guide shares how simply understanding the food gap problem can reveal the many available solutions.
The Black Equity Cause Guide describes the racial inequality gap in the U.S., and discusses why such a gap means building a less just and sustainable economy. This highly relevant Cause Guide provides an extensive list of resources to help fund race equity organizations, self-educate, and eat or buy from listed black-owned businesses.
The new Hey Social Good Cause Guide is designed to educate and inspire action by digging into social and environmental issues and presenting a myriad of ways people can influence and make change.
CEO and Co-Founder, Dr. Cindy J Lin, confirms "consumers are looking to change their habits based on cause". The company's recent user activity data showed consumers actively seeking out giveback and sustainable brands. In two short quarters, Hey Social Good observed a 245% growth rate increase in users searching for sustainable and giveback brands.
"The combination of our diverse, sustainable and ethical shopping choices and unique Cause Guides make Hey Social Good one of the most user-friendly social good platforms around. Good news is we can make different choices and have a direct say over the future of our health and planet's well-being", shared Kate Houser, Creative Director of Hey Social Good.
Hey Social Good is made up of a team of purpose-driven creatives and scientists working to verify information and respectfully illustrate the connections between issues and our daily habits. The strength of this nimble, social impact startup tech company is its willingness to tackle tough topics like black equity and food justice.
The Hey Social Good platform is a unique content and data-driven yelp-like platform that helps consumers easily shop with purpose by awarding bronze, silver, gold and platinum medal rankings to socially conscious companies who give back and practice sustainable business operations. For businesses, Hey Social Good makes it easy for brands to show off their social good by verifying their give back activities and sustainable practices transparently.
For more information, visit: https://www.heysocialgood.com
Contact: hey@heysocialgood.com