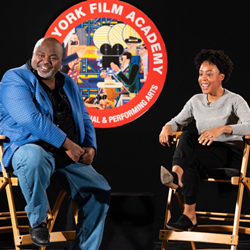 "AAFCA is thrilled with our partnership with NYFA as we celebrated Black excellence in the industry during Black History Month (BHM)." - Gil Robertson, AAFCA Founder and President
(PRWEB) February 28, 2019
Earlier this month, the New York Film Academy (NYFA) partnered with the African American Film Critics Association (AAFCA) and the African Black American (ABA) Film Society to present a special discussion exploring the past, present and future of Black creative excellence in Hollywood through an inaugural learning lab, "Celebrating Black Excellence in Cinema" at its Los Angeles campus. The event featured Outlier Society's Alana Mayo, and was moderated by AAFCA Founder and President Gil Robertson.
Gil Robertson said, "AAFCA is thrilled with our partnership with NYFA as we celebrated Black excellence in the industry during Black History Month (BHM). Our panel with Alana was excellent. She was very generous in sharing her experiences with the students as a Creative Executive, as well as providing them with inspiration on how they can follow in her path."
Alana Mayo was Vice President of Production at Paramount and Vice President and Head of Originals at Vimeo before becoming Head of Production and Development for Michael B. Jordan's Outlier Society Productions. At Paramount, Mayo helped develop the cinematic adaptation of Fences starring Denzel Washington and Viola Davis.
Mayo discussed her background, how her parents influenced her career, and navigating her trajectory as a Creative Executive for three of the top studios in the industry.
On February 6, NYFA again had the honor of partnered with the AAFCA, when they provided volunteers and a crew to film the 10th Annual AAFCA Awards at the Taglyan Center Complex in Hollywood through its Industry Lab. Founded in 2014, the NYFA Industry Lab offers students real world experience through working on major productions for professional clients. Most recently, the internationally acclaimed short film, "The Counter: 1960," included seven Industry Lab members who contributed to the film's production.
"The collaboration of AAFCA with NYFA will forge a path for students and alumni to take advantage of the multitude of opportunities that AAFCA can bring to NYFA," adds NYFA Industry Lab Chair Kimberly Ogletree. "By aligning ourselves with a proven organization such as AAFCA, we can benefit from their expertise and knowledge of servicing the community and the entertainment industry."
The collaboration between AAFCA, the ABA Film Society, and NYFA continues with a Q&A session with NYFA alum and Vice President of Original Films at Netflix Tendo Nagenda on Thursday, February 28. Nagenda, who was previously Executive Vice President of Production at Walt Disney Studios, has a reputation in Hollywood as being one of the industry's most talented creative executives. Nagenda helped develop the live action remakes of "Cinderella," "Beauty and the Beast," "Dumbo," and "Mulan" as well as the films "Saving Mr. Banks," "Queen of Katwe," and "A Wrinkle in Time."
About New York Film Academy
The New York Film Academy (NYFA) is a leading visual and performing arts school that offers hands-on, intensive programs across 15 areas of study in New York City, Los Angeles, South Beach/Miami, Gold Coast (Australia), Florence (Italy), and more. Thousands of aspiring artists come to study at the New York Film Academy each year from over 120 countries. For more information, please visit nyfa.edu.
About African American Film Critics Association
Established in 2003, the African American Film Critics Association (AAFCA) is the nation's longest-standing critics body for black film journalists. The AAFCA actively reviews cinema at-large, with a particular emphasis on films which include the Black experience. The organization creates a platform for movies with universal appeal to the African-American community, while highlighting films produced, written, directed and starring, persons from the African Diaspora. It's members are also involved in advocacy work that includes programming for students interested in film criticism and journalism.
###