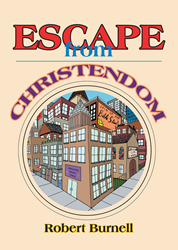 MEADVILLE, Pa. (PRWEB) November 19, 2021
After Eugene A. (Gene) Thompson successfully obtained permission to republish this new edition of a Christian Classic, he authored a Preface, Introduction, and Appendix. Gene is widowed and has three grown sons and twelve grandchildren. He holds an MBA from UCLA and served for twelve years in various government roles with the Veterans Admiration, Executive Office of the President, and US Senate staff. He is a Deacon and Elder at The National Presbyterian Church in Washington, DC, and he is currently the Executive Director of the Moldova Mission Network, a (501(c)(3) non-profit corporation. The pseudonym Robert Burnell has been used after extensive research failed to recover the author's true identity.
Gene shares, "Do you practice garage theology? Garage theology is common in today's churches. Some practice it without knowing it's consequences. A simple definition would be 'going to church makes someone a Christian. This is no more logical than believing going into a garage will make someone a Cadillac. This all too common delusional premise is convincingly debunked within this book.
"The lone traveler is perplexed. Why is he alone so much of the time while such crowds pack the city? Why is the wilderness the way to know God?
"Here is a classic retelling of the quest of all humanity—to understand the mystery of life. Our unidentified traveler has bouts of certainty interspersed with doubts. The hardships are real; the goal is eternal. He is faced with tests. He is deceived, but he recovers. He struggles to maintain the main thing as the main thing. As a journey of adventure, surprise, hardship, and ultimate triumph, it is an accurate picture of life in the spirit. Finally, the reader is confronted with the question: What is revival? Two options are presented. Which is reality?
"'A time will come when instead of shepherds feeding the sheep, the church will have clowns entertaining the goats.' —Charles H. Spurgeon"
Published by Christian Faith Publishing, Robert Burnell's re-print is an engaging and thoughtful discussion of the isolation felt by many in today's modern church dynamic.
Burnell shares a poignant and compassionate appraisal of the experiences shared by many of today's faithful worshippers of God.
Consumers can https://www.christianfaithpublishing.com/books/?book=escape-from-christendom "Escape from Christendom" at traditional brick & mortar bookstores, or online at Amazon.com, Apple iTunes store, or Barnes and Noble.
For additional information or inquiries about "Escape from Christendom," contact the Christian Faith Publishing media department at 866-554-0919.