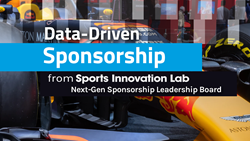 Properties and brands need to be in a stronger position to personalize the sports experience and deliver breakthrough fan experiences.
BOSTON (PRWEB) September 23, 2020
The sports industry may be known for putting on some of the world's most thrilling live entertainment and sponsorship activations, but when it comes to data, brands are still flying blind. A new report from Sports Innovation Lab is tackling the shortcomings of the sports sponsorship landscape, which has only incrementally evolved over the decades, and revealing an innovative new roadmap for instituting advanced models designed to create exponential returns. The report is available for download on Sports Innovation Lab's website today.
"It's time for sponsorship investments to work harder and smarter," says Sports Innovation Lab CEO and 4X Olympic medalist Angela Ruggiero. "Properties and brands need to be in a stronger position to personalize the sports experience and deliver breakthrough fan experiences." Stewarded by the members of Sports Innovation Lab's Next Generation Sponsorship Leadership Board, which includes leaders from the industry's most progressive brands and sports organizations including the NHL, Coca-Cola, Drone Racing League, Mastercard, Athletes Unlimited, CISCO, and others, the report pushes for architecting sponsorship activations around fan behaviors and motivations, and ultimately building a richer fan CRM database.
The report delves into the trends and change agents that are the driving force behind next generation sponsorships, and how brands and properties can move from "calls to action" to "transactions" by evolving sponsor programs to unlock powerful behavioral data. Specifically the report examines and prioritizes three modes of sponsorship:
1. Associations: With little to no behavioral design and a low reliance on technology, Associations are typically measured in reach and impressions. To derive maximum value Activations should include strong prompts to collect fan feedback, and contracts must define where the collected data resides for brands.
2. Activations: While there isn't a tremendous amount of behavioral design, Activations have a heavier reliance on technology and can deliver valuable behavioral data that goes beyond impressions, uncovering critical revenue driving behaviors such as betting, streaming, or creating by fans.
3. Platforms: The most sophisticated of the modes, Platform sponsorships have both a high behavioral design and reliance on technology, and place an evergreen, data-driven partnership at the center of a brand and sport relationship.
Along with Sports Innovation Lab's proprietary market intelligence, the Next Generation Sponsorship Leaderhip Board evaluated case studies, reviewed best practices, and provided personal accounts of success and failure to inform the data and generate the tenants of the Data-Driven Sponsorship report.
The board members and industry leaders who contributed to this report include:
Columbia University - Joe Favorito, Lecturer and Sports Strategy Consultant (Co-Chair)
National Hockey League - Heidi Browning, EVP, Chief Marketing Officer
Rover - John Coombs, EVP, Co-Founder & CEO
Visa - Kristina DeYoung, Global Brand & Innovation Marketing
Coca-Cola - Ricardo Fort, Head of Global Sponsorships
Mastercard - Michael Goldstein, Vice President - Head of Sponsorships, North America
Los Angeles Rams - Jason Griffiths, Vice President, Partnerships
Drone Racing League - Nick Horbaczewski, CEO & Founder
Brizi - Anna Hu, CEO & Co-Founder
Vegas Golden Knights - Brian Killingsworth, Chief Marketing Officer
Spartan Race - Ian Lawson, VP Global Partnerships
Cisco - Ken Martin, Executive Director, Global Digital Transformation Sports and Entertainment Consumer Industries
Octagon - Jeff Meesson, Senior Vice President
Athletes Unlimited - Jon Patricof, CEO & Co-Founder
Blinkfire Analytics - Alexis Prousis, VP of Marketing
The DOW Chemical Company - Mike Reed, VP of Olympic and Sports Solutions
Promethean TV - Ian Sharpe, CEO
Nielsen Sports - Jon Stainer, Managing Director Americas
FIFA - Nick Brown, Director of Commercial Revenues
Sports Innovation Lab continues to be a leading voice in the resurgence and advancement of sports and the fan experience through their Fluid Fan Leadership Board program. The executives from the Next Generation Sponsorship Board join an exclusive roster of thought-leaders from the Fluid Fan Leadership Board, including executives from companies: DraftKings, Kinduct, MediaLink, MGM, NASCAR, NFLPA, Panini America, ShotTracker, Titletown Tec, Veepio, UFC, Wave, Whoop, World 1 League, the Bundesliga, TD Garden, CLEAR, Legends, Oracle, JMA Wireless, Verizon Media/Yahoo Sports, Double Seven Sports, Cox, Deutsche Fußball Liga, Dow Jones, Intel Corporation, LiveLike, Nikkei Innovation Lab, Octagon, Sportradar, and Verizon Media/Yahoo Sports.
About Sports Innovation Lab:
Sports Innovation Lab is leading a sports research revolution. We exist to educate our clients on the technological possibilities for their brand and how to ultimately drive value to the end consumer: the Fluid Fan. We inspire brands to create breakthrough fan experiences through data-driven technology insights and industry-leading research. Learn more about us at http://www.sportsilab.com