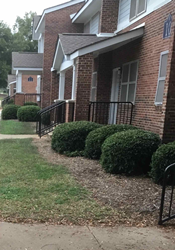 "Transferring our positive RAD experience to preserve quality affordable housing in Spartanburg provides an important opportunity to put our sound fiscal expertise to work," said NHPF President/CEO Richard Burns, "The awarding of scarce 9% tax credits adds to the project's overall success."
NEW YORK (PRWEB) November 16, 2020
Leading affordable housing provider, The NHP Foundation ("NHPF") was selected by The Spartanburg Housing Authority to partner and redevelop/preserve Victoria Gardens Apartments in Spartanburg, SC. Competitive 9% tax credit financing was secured along with long-term rental subsidy from the Rental Assistance Demonstration (RAD) program. Federal Home Loan Bank of Atlanta also supplied $500,000 in additional funding.
"Transferring our positive RAD experience from the DC area to preserve quality affordable housing in Spartanburg provides an important opportunity to put our sound fiscal expertise to work," said NHPF President and CEO Richard Burns, "The awarding of scarce 9% tax credits is also a tremendous addition to the project's overall success."
The total gut rehab of the 80-unit development began in October and will be conducted in phases 5 to allow for temporary relocations of all residents. It will be completed in January, 2022 and includes remediation of all hazardous materials, roof and floor replacement, addition of half bathrooms in all 2- and 3- bedroom units, new kitchens featuring Energy Star appliances, new windows and light fixture ceiling fans as well adding washer and dryer hookups.
Additionally, the renovation includes new electrical, plumbing and HVAC systems, new hot water heaters, paint and sheetrock and security system upgrades.
"The interior repairs will help provide residents with all the comforts and amenities of a new home," said Mansur Abdul-Malik, VP, NHPF, "And external additions such as updated landscaping and irrigation, repaired sidewalks, new walking trail, and new ADA-approved gazebo and playground equipment, ensure an improved overall quality of life experience for families and children."
"The key to a successful renovation such as this is a smooth process of temporary relocation for our residents," added Shaunté Evans , CEO, Spartanburg Housing Authority, "By working with a relocation specialist, we have ensured that all residents are staying nearby and children will remain within the same school district." Evans adds, "We look forward to welcoming our families back into their renovated homes."
Victoria Gardens Apartments, which were built in 1970, has received minor renovations over the years including transitioning to central heating and air conditioning in the early 2000s.
About The NHP Foundation
Headquartered in New York City with offices in Washington, DC, and Chicago, IL, The NHP Foundation (NHPF) was launched on January 30, 1989, as a publicly supported 501(c)(3) not-for-profit real estate corporation. NHPF is dedicated to preserving and creating sustainable, service-enriched multifamily housing, and scattered-site communities that are both affordable to low and moderate income families and seniors, and beneficial to their communities. Through Family-Centered Coaching, NHPF's subsidiary Operation Pathways engages with, and assists, families experiencing poverty and other hardship, to problem-solve together. Through partnerships with major financial institutions, the public sector, faith-based initiatives, and other not-for-profit organizations, NHPF has 57 properties, including nearly 10,000 units, in 16 states and the District of Columbia. For more information, please visit http://www.nhpfoundation.org.
About The Spartanburg Housing Authority
The Housing Authority of the City of Spartanburg has provided housing assistance for people with low and moderate incomes, since 1939. SHA provides housing assistance for families, elderly, veterans and disabled individuals through a variety of programs including Public Housing and Housing Choice Vouchers. For more information on housing assistance, contact the Spartanburg Housing Authority at 2271 South Pine Street, Spartanburg, SC 29302 or phone 864-598-6000. SHA offices are open Monday through Friday, 8:30 a.m. to 5:00 p.m. Visit online at SHASC.org.