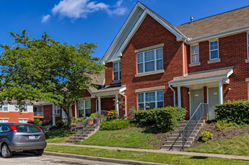 "At HAKC we look for partners who can move quickly with intent to prevent our city from losing any precious affordable housing," said Edwin Lowndes, Executive Director at HAKC, " With NHPF, we were able to rapidly enact the purchase and preserve the property's affordability."
NEW YORK (PRWEB) July 12, 2021
Continuing its mission to create and preserve affordable housing in 15 states and the District of Columbia, NHPF today announced its acquisition of Cardinal Ridge Apartments in Kansas City, MO. The 160-unit former 9% tax credit deal includes LIHTC, market rate, and public housing units for seniors and families.
NHPF and the Housing Authority of Kansas City, Missouri (HAKC), acted in partnership to prevent the property from going to foreclosure. Because the initial 15-year compliance period on the property has expired, the acquisition will ensure the property remains affordable beyond the remainder of its 30-year extended use period and into the foreseeable future.
Cardinal Ridge Apartments offer 20 buildings providing a variety of housing options including a senior-dedicated 3-story mid-rise building serviced by an elevator, garden style walkups, and two- and three- story townhouse units.
NHPF is currently working to stabilize the asset in preparation to resyndicate the property as a tax-exempt bond and 4% LIHTC transaction.
"At HAKC we look for partners who can move quickly with intent to prevent our city from losing any precious affordable housing," said Edwin Lowndes, Executive Director at Housing Authority of Kansas City, MO, " In NHPF, we found a partner who shares this goal and together we were able to enact the purchase and preserve the property's affordability."
"This Kansas City property affords NHPF the opportunity to expand our provision of much-needed affordable housing in a stable neighborhood with low crime," said Mansur Abdul-Malik, VP, Development, NHPF, who continued, "The transaction also expands our Housing Authority relationships and demonstrates our expertise in completing complex financial transactions in record speed."
Due to the impending foreclosure, NHPF performed due diligence, negotiated and structured the deal, and were able to close within 30 days.
About The NHP Foundation
Headquartered in New York City with offices in Washington, DC, and Chicago, IL, The NHP Foundation (NHPF) was launched on January 30, 1989, as a publicly supported 501(c)(3) not-for-profit real estate corporation. NHPF is dedicated to preserving and creating sustainable, service-enriched multifamily housing, and single-family homes that are both affordable to low and moderate income families and seniors, and beneficial to their communities. NHPF's Construction Management Group provides in-house resources dedicated to infrastructure review, infrastructure development and costs management. Through Family-Centered Coaching, NHPF's subsidiary Operation Pathways engages with, and assists, families experiencing poverty and other hardship, to problem-solve together. Through partnerships with major financial institutions, the public sector, faith-based initiatives, and other not-for-profit organizations, NHPF has 57 properties, including nearly 10,000 units, in 15 states and the District of Columbia. For more information, please visit http://www.nhpfoundation.org.