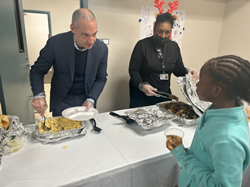 Kevin Lewis, Deputy ED, Operation Pathways Inc., NHPF resident services subsidiary said, "This partnership with Share Our Strength helps ensure families get nutritious food every day so children grow up healthy and strong and communities thrive and prosper."
NEW YORK (PRWEB) March 09, 2023
The NHP Foundation (NHPF), a national not-for-profit provider of affordable housing, has joined with Share Our Strength's No Kid Hungry campaign to create healthier, food secure communities where individuals can access quality meals and nutrition programs with choice, dignity and respect. Share our Strength, A national organization committed to ending hunger and poverty, awarded a $165,000 grant to NHPF to support residents at Cleme Manor in Houston's Fifth Ward. It is one of the first two grants of its type awarded nationally by Share Our Strength.
Cleme Manor, an affordable housing apartment community, is in a neighborhood that has been identified as food desert by the USDA. The property, at 5300 Coke Street, is home to about 700 residents.
The partnership with Share Our Strength's No Kid Hungry campaign will increase dietary health and food security and will cultivate housing (such as Cleme Manor) as a nutrition hub that benefits the larger community. This resident-lead program focuses on how to bring nutritious food and wellness activities to the community, which may include food trucks, community gardens, an onsite food pantry, healthier cooking classes and more.
The grant will enable NHPF to hire an Enrichment Services Coordinator for Food Access at Cleme Manor. That employee will create and expand onsite support such as nutrition education and will ensure residents are taking advantage of food access services like SNAP, grocery delivery and special meal preparation ideas for those with medical concerns.
"We are committed to increasing access to opportunities for historically underrepresented individuals in the development and operation of affordable housing communities," said Kevin Lewis, Deputy Executive Director, Operation Pathways Inc., the resident services subsidiary for NHPF. "This partnership with Share Our Strength's No Kid Hungry campaign will help ensure families can get the nutritious food they need every day so their kids can grow up healthy and strong – which will help their communities thrive and prosper."
"Every child deserves access to three meals every day," said Kelleen Zubick, senior director of health strategy for Share Our Strength's No Kid Hungry campaign. "We are excited to partner with The NHP Foundation to help Cleme Manor children and families easily access affordable, nutritious food."
###
NPH Foundation
About The NHP Foundation
Headquartered in New York City with offices in Washington, DC, and Chicago, IL, The NHP Foundation (NHPF) was launched on January 30, 1989, as a publicly supported 501(c)(3) not-for-profit real estate corporation. NHPF is dedicated to preserving and creating sustainable, service-enriched multifamily housing, and scattered-site communities that are both affordable to low and moderate income families and seniors, and beneficial to their communities. Through Family-Centered Coaching, NHPF's subsidiary Operation Pathways engages with, and assists, families experiencing poverty and other hardship, to problem-solve together. Through partnerships with major financial institutions, the public sector, faith-based initiatives, and other not-for-profit organizations, NHPF has 57 properties, including nearly 10,000 units, in 16 states and the District of Columbia. For more information, please visit http://www.nhpfoundation.org.
No Kid Hungry
No child should go hungry in America. But millions of kids in the United States live with hunger. No Kid Hungry is working to end childhood hunger by helping launch and improve programs that give all kids the healthy food they need to thrive. This is a problem we know how to solve. No Kid Hungry is a campaign of Share Our Strength, an organization committed to ending hunger and poverty. Visit https://www.shareourstrength.org for more information.