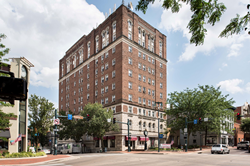 "Demand for affordable housing still outpaces supply, making the CMF grant another important tool in the funding toolbox," said Eric W. Price, Executive VP/CFO of NHPF. "CDFI grants provide non-profit sponsors another way to secure critical financing to create quality affordable housing."
NEW YORK (PRWEB) March 04, 2021
The NHP Foundation is pleased to announce it was awarded $5.5M from the Treasury Department's Capital Magnet Fund (CMF) to continue its work preserving and creating affordable rental housing throughout the U.S. NHPF will use the grant to provide predevelopment, acquisition, and construction bridge financing to projects in the District of Columbia and six states, including: Connecticut, Illinois, Maryland, Massachusetts, South Carolina, and Texas.
For example, NHPF plans to use the CMF grant to lend $1.5M to Alexander House in Hagerstown, MD and bridge certain public funds until they become available. NHPF acquired the historic building in 2015 and has been working to recapitalize and renovate the building since then. The historic renovation will help 95 very low-income senior and disabled residents stay in their homes with supportive services. The CMF grant will allow NHPF to start construction this summer.
"With the demand for affordable housing still outpacing the supply, the CMF grant is another important tool in the funding toolbox," said Eric W. Price, Executive Vice President and CFO of NHPF. "We appreciate the CDFI's efforts to provide non-profit sponsors with another way to secure the critical financing we need to continue to create quality affordable housing communities in areas of high need."
This is NHPF's first CMF award in its three-decade history. NHPF owns 10,000 units of affordable housing and has more than 4,000 units in its development pipeline. The organization provides service-enriched multifamily housing in 16 states and the District of Columbia. In recent years, NHPF has expanded its expertise beyond acquisition and renovations, to include ground-up, new construction, preservation of Single Room Occupancy (SRO) units, dispersed single-family rental housing, and it recently partnered with the City of Falls Church to manage a new affordable housing homeownership program.
"This valuable grant allows our acquisition and development teams to reach into new markets and solve complex financing problems" said Richard F. Burns, President & CEO, NHPF. "Ultimately, the CMF grant will allow us to expand our Resident Services programs and help people rise up and out of poverty."
CMF is a program of the US Treasury Department's Community Development Financing Institutions Fund (CDFI). The 2020 CMF grants total $175.35 million awarded to 48 organizations. The 27 CDFIs and 21 nonprofit housing organizations leverage $5.3 billion in public and private investment. This investment supports development that will result in nearly 23,000 affordable housing units, with 97% of the units developed for low-income families.
Read more about the CMF awards here: FY 2020 Capital Magnet Fund Award Book.
About The NHP Foundation
The NHP Foundation (NHPF) was launched on January 30, 1989, as a publicly supported 501(c)(3) not-for-profit real estate corporation. NHPF is dedicated to preserving and creating sustainable, service-enriched multifamily housing, and single-family homes that are both affordable to low and moderate-income families and seniors, and beneficial to their communities.
NHPF is headquartered in New York City and has offices in Washington, DC and Chicago, IL. Through Family-Centered Coaching, NHPF's subsidiary Operation Pathways engages with, and assists, families experiencing poverty and other hardship, to problem-solve together. Through partnerships with major financial institutions, the public sector, faith-based initiatives, and other not-for-profit organizations, NHPF has 57 properties, including nearly 10,000 units, in 16 states and the District of Columbia.
For more information, please visit: http://www.nhpfoundation.org.