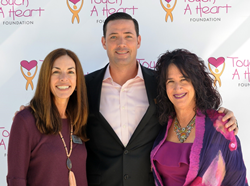 BOCA RATON, Fla. (PRWEB) February 26, 2019
The Oaks at Boca Raton, along with FirstService Residential, North America's property management leader, partnered with Touch A Heart Foundation to host its 15th Annual "Spa Day" Charity Event.
Richard O'Neil, General Manager for The Oaks at Boca Raton, stated "It was great to see so many generous people come out to support this wonderful cause. Our staff worked tirelessly over the last six months planning and preparing for the event. This event continues to grow year over year and has exceeded our expectations in every way."
FirstService Residential is always delighted to support The Oaks at Boca Raton in their philanthropic efforts," said David Diestel, regional president, South. "Strengthening the communities where we work and serve is something we take great pride in."
Nearly 300 participants, volunteers and spa providers gathered to spend the day relaxing, shopping, eating, and getting mini spa services such as massages, acupuncture, hair blowouts, facials and Reiki healing from professionals who donated their time for this important cause. Tennis clinics and psychic readings were also available. In addition, guests enjoyed complimentary Pilates and yoga classes. The Touch A Heart Boutique included jewelry, home accessories, skincare products, sunglasses, activewear, makeup...and more! An attendee, Paige Aballi said, "I had the best day! From having lunch with friends to getting a massage and shopping. All while supporting a great cause! The day was truly amazing."
TOUCH A HEART FOUNDATION is a non-profit 501(c)(3) dedicated to enriching the lives of less fortunate children in the South Florida tri-county area. Jenifer Kaufman, Executive Director for Touch A Heart Foundation stated, "We raised over $60,000 at the event for Touch A Heart Foundation, which will sustain and grow our programs for the upcoming year. The amount of money raised has grown each year thanks to the hard work of The Oaks staff, sponsors, volunteers and providers. We will continue our annual programs such as the holiday Adopt-A-Family program, Backpack and School Supplies Drive, Birthdays-in-a-Bag for foster children, Empower the Girls self-defense classes for at-risk teenagers, The Joy of Giving shopping boutique, Halloween Costume and Pajama drives as well as add in new programs."
For more information on Touch A Heart Foundation and how you can help, please visit http://www.touchaheartfoundation.org.
For more information on The Oaks at Boca Raton, please visit The Oaks at Boca Raton website at http://www.theoaksatbocaraton.net or contact our Marketing Director Clifford Coleman at 561-482-3230.
Photos provided by EDG Print http://www.edgprint.net.