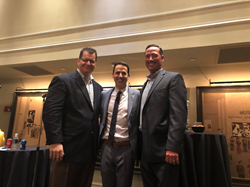 Boca Raton, FL (PRWEB) December 05, 2018
The Oaks at Boca Raton, in partnership with Mizner Country Club, delighted their residents to a wonderful dinner and show featuring world renowned mentalist Oz Pearlman on Saturday, November 10th.
The Oaks homeowners were blown away by the Magic of The Mind skills of Oz Pearlman. The dinner and show hosted at Mizner Country Club was a huge success. Oaks resident Ed Sternlieb said, "From pre-show buffets to an amazing show that we are still talking about and the tasty desserts provided by The Oak Room to end the night, I can candidly say that Oz was out of sight and in our minds. He is a consummate performer that puts on a show that tops anything we have ever seen before."
Along with a delicious buffet and drinks, The Oaks and Mizner Country Club guests socialized and then were stunned by the abilities of Oz Pearlman. All attendees raved about the event and are optimistic for future collaborations. "Amazing!!! It was great to see everything come together. Looking forward to the next partnered event with Mizner," exclaimed long time Oaks resident Beth Bernick.
Both The Oaks and Mizner staff worked hard to put this event together and planning for this special occasion began many months prior. The execution and professionalism on all fronts did not go unnoticed. The Oaks at Boca Raton HOA Board Member Eric Rand stated, "The event was a tremendous success! Thank you to Rich and the entire team for pulling off such a great experience."
General Manager, Rich O'Neil stated, "The Oz Pearlman Experience is just one of many extraordinary events that The Oaks has planned for the upcoming year. We are so thankful for the partnership with Mizner Country Club and look forward to more collaborations."
For more information on The Oaks at Boca Raton, please visit our website at http://www.theoaksatbocaraton.net or contact our Director of Marketing, Cliffard Coleman at 561-482-3230.