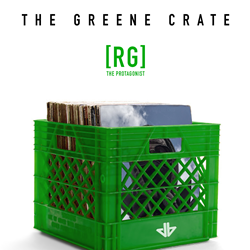 NEW YORK (PRWEB) January 19, 2021
"The pandemic took Theater from me, so music became my expression."
Robert Greene, aka RG the Protagonist makes his musical debut as a prolific high spirited MC on his new album "The Greene Crate". As a poet, actor and writer, RG has performed domestically across the United States. Internationally, he has taken the stage for traveling productions in Singapore and Russia. His one-person play "Situations", premiered at the New York Fringe Festival with honors, and most recently he was cast in the leading role to play the iconic freedom fighter Nelson Mandela. Once theaters reopen their doors after the pandemic, Robert will resume his starring role in the off-Broadway play "Mandela" at the Actor's Temple Theatre 339 West 47th Street (btw. 8th & 9th ave).
RG's debut album, "The Greene Crate" is partially inspired by the 90's golden age sound of hip hop. A blended mix of crate-digging soul samples accompany boosted synths and rhythmic hooks throughout the project. Produced by DJ and tech enthusiast Jon Blok, "The Greene Crate" carries his hallmark production sound of fused soul, Edm, Rock and Hip hop vibes. RG's lyrical flows are extremely versatile and distinct throughout the project which is refreshing and entertaining on each song. The 9 tracks on the album push a cohesive sonic narrative forward toward the last song, "On the Run" which completely re-energizes the musical status quo very much in the same way Andre 3000 of Outkast did with his smash hit "Hey Ya!".
A total of 6 interviews were conducted with RG the Protagonist which share his emotional and creative thoughts behind his music and challenges during the pandemic.
https://www.youtube.com/watch?v=6WvtaZ9_dkI
The Greene Crate will be released on February 1, 2021 on all major music platforms.
For more information about RG the Protagonist, please visit https://jonblok.com/ or send requests for interviewing the artist to: jonblokmusic@gmail.com