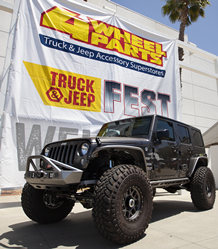 "This is a great time for the off-road enthusiast to talk one-on-one with experts and take advantage of some of the best deals of the year."
COMPTON, Calif. (PRWEB) February 12, 2019
4 Wheel Parts (4WP), the global leader in off-road truck, Jeep, UTV and aftermarket products, is proud to announce the start of their 2019 Jeep & Truck Fest tour, the nation's largest annual show of its kind, as it kicks off at the Long Beach Convention Center on February 16. This two-day, consumer-friendly event brings factory direct pricing, custom trucks, Jeeps and UTVs, product demonstrations and giveaways from the industry's premier manufacturers directly to local off-road enthusiasts. Admission is free.
With $500,000 of inventory on hand, off-road fans can purchase products at dramatic discounts or stop by the popular Blow-Out section with up to 75% off discontinued or damaged-package goods. Manufacturer representatives will be on hand to provide expertise and insight on the latest off-road products, including tires, wheels, suspension and accessories for trucks, Jeeps and UTVs. Participating brands include AVS, AMP Research, Bestop, BF Goodrich, Bushwhacker, KMC Wheels, Lund, Magnaflow, Moto Metal, Poison Spyder, Pro Comp, Rancho, Rigid, Rubicon Express, Smittybilt, Warn, and many more.
"This is a great time for the off-road enthusiast to talk one-on-one with experts and take advantage of some of the best deals of the year," said Brent Goegebuer, Director of Advertising and Events at 4 Wheel Parts. "They can see the latest products up close and personal, as well as extreme builds that would normally be shown at pro races or industry-only events."
Attendees of the Truck & Jeep Fest will have the opportunity to enter into a number of promotional raffles, including a chance to win one of two $500 4WP shopping sprees. Reflecting their growing popularity across the country, UTVs will also have a large presence. Visitors can enter the Polaris SxS Giveaway Sweepstakes where they could win their choice of a 2019 Polaris RZR XP 1000, Polaris Ranger XP 1000 or Polaris General, each with a retail value of $18,000.
"4WP has always been a leader in rewarding our customers with great promotions and events. For February, customers have a chance to win a Polaris 1000cc SxS, and what makes this really special is they will actually get to pick which SxS they want," said Joey DiGiovanni, Director of Creative Marketing & Partnerships. "2019 is going to be a fun and exciting year all the way around, and this is only the start!"
Doors are open to the public 10 a.m. to 4 p.m. on Saturday and 11 a.m. to 4 p.m. on Sunday. The first stop on the 2019 Truck & Jeep Fest tour will be February 16-17 at the Long Beach Convention Center. The campaign will continue on to San Mateo, CA (February 23-24), Honolulu, HI (March 9-10), Houston, TX (March 30-31), Puyallup, WA (April 6-7), Dallas, TX (May 18-19), Ontario, CA (June 8-9), Denver, CO (July 13-14), Long Beach, CA (July 20-21), Atlanta, GA (August 3-4) and conclude in Orlando, FL (August 17-18). For event information, please visit http://www.4wp.com/Truckfest.
Highlights

Largest off-road traveling exhibition in the country
Over 75,000 square feet of booths and products
$500,000 worth of inventory on site at the lowest prices of the year
Displays of race vehicles, UTVs, custom trucks and tricked out Jeeps
Tires, wheels, suspension, bumpers, lighting, truck bed accessories and more
Product demonstrations and installation specials
Free raffles for two $500 4WP Shopping Sprees
Information and entry forms for the Polaris SxS Giveaway Sweepstakes
Hourly promotional pricing and giveaways
Blow-out section with up to 75% OFF on discontinued items
Up to 12 months no-interest financing
Long Beach 2019 Truck & Jeep Fest
Long Beach Convention & Entertainment Center, Hall C
300 East Ocean Boulevard, Long Beach CA 90802
Saturday, February 16, 2019 10 a.m. - 4 p.m.
Sunday, February 17, 2019 11 a.m. - 4 p.m.
ADMISSION IS FREE
Images, logos, copy and schedule: http://bit.ly/Truckfest_2019
ABOUT 4 WHEEL PARTS: 4WP is a powerhouse in the growing $10-plus billion Jeep and truck accessory market. A division of Transamerican Auto Parts (TAP Worldwide, LLC), and acquired by Polaris Industries Inc. in 2016, 4WP sells and installs an extensive line of industry-leading aftermarket parts and accessories for off-road enthusiasts through 94 brick-and-mortar stores in North America and online at http://www.4WP.com. More than 500 aftermarket auto brands are offered through 4WP, including off-road wheels, tires, suspensions, drivetrains, exterior/interior accessories, recovery equipment, lighting, electronics, replacement parts and gear for the outdoor/camping lifestyle.