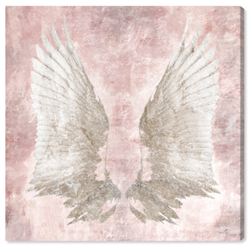 "Chié's Freedom Wings is my way of capturing women's fight against cancer and support the cause. We are committed to giving back to numerous causes that feel especially close to our hearts."
FORT LAUDERDALE, Fla. (PRWEB) September 30, 2020
Oliver Gal, a contemporary art gallery with affordable art print collections, announced that they will be donating 10% of the proceeds from their Pink Collection to Bright Pink during the month of October for Breast Cancer Awareness.
Oliver Gal is the leading wall decor manufacturer spearheaded by sisters and artists Lola Sánchez & Ana Gal. Their partnership with Bright Pink will aid in the company's efforts to empower women to know their risk and manage their health proactively.
As part of their pink collection, Oliver Gal created a limited-edition Pink Luxury Traveler
custom pet portrait. The Oliver Gal Artist Co. is a big proponent of customizable and handmade works of art, so giving customers the ability to spotlight their furry friends as part of their Pink Collection only made sense.
One of Oliver Gal's most notable pink collection compositions, Chie's Freedom Wings, is inspired by the captivating story of the founder's Ana & Lola's cousin Chié, who was diagnosed with BRCA I. This genetic mutation increases the chances of developing Breast Cancer by up to 80%. Chié had to bravely undergo a double mastectomy with reconstruction to prevent Breast Cancer at the young age of 24.
"Chié's Freedom Wings is my way of capturing women's fight against cancer and support the cause," said Sanchez. "We are committed to giving back to numerous causes that feel especially close to our hearts."
As female business owners, Ana and Lola understand all too closely how devastating a Breast Cancer diagnosis can be. That is why Oliver Gal's partnership with Bright Pink along with Lola's special piece to honor her cousin's journey means so much to the duo.
About Oliver Gal
The Oliver Gal Artist Co. is a growing art and lifestyle brand in South Florida, created to capture life's most haute moments, avantgarde objects and splendid lifestyles in art and other products. Originated by sisters and artists Lola Sánchez and Ana Gal, the duo was inspired by the Miami art scene and photography from their travels abroad. Their work exudes humble elegance, transforming blank walls into grand-scale, high-style canvasses. Learn more at https://www.olivergal.com and follow for more information on Instagram, Facebook and Pinterest.
About Bright Pink
Bright Pink helps to save lives from breast and ovarian cancer by empowering women to know their risk and manage their health proactively. They focus on health, not cancer, to inspire women to practice breast and ovarian cancer prevention. Their innovative programs, strategic initiatives and powerful partnerships directly reach women in their daily lives and healthcare providers in their daily practice. Learn more at BrightPink.org.