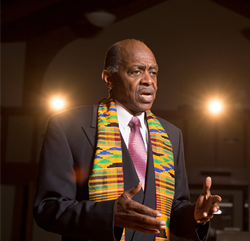 "A singer of real accomplishment!", The New York Times
BRIDGEVILLE, Pa. (PRWEB) January 14, 2023
In honor of the day of service, The One Music Fest is honoring 26-year veteran, Tim Anderson, Director of the Bridgeville Community food bank with the Unsung Community Service Award and requesting donations of food for drop off.
The event will feature Anthony Brown, world-renown baritone, Ambassador of Peace, and local Pittsburgh talent, who will offer songs of peace, hope, and healing. His gripping and compelling style has universally brought people together across the divides of race, religion, nationality, ethnicity and culture. Brown works across a variety of themes, including his educational and inspirational African American Spirituals. His electrifying performances help people connect through his gripping messages of peace, justice and oneness of humanity.
Also offering their considerable musical talents to the celebration are:
Michael Talerico, Tenor and a native of Pittsburgh Pennsylvania. He has had the pleasure of performing the title role of Hoffmann in Les conte d'Hoffman with the Franco-American Vocal Academy in conjunction with Opera du Périgueux, in Périgueux, France and among a vast array of performances, world premiering the role of Eliphaz in the premiere of Job, Frick in the English world premiere of La vie parisienne with Opera Without Fences in Houston Texas, and Jesus in the premiere of The Selah Prophesies (available on apple music) in Phoenix Arizona.
Kathryn Kearney, Soprano, a writer, poet, and Harvard Anthropology alumna whose interests lie at the intersection of race, performance, and the arts. will pay tribute to Martin Luther King's legacy through song.
An intersection of local pastors will offer community prayerful meditations on Hope, Perseverance, and Reconciliation that reflect Dr. King's sentiments.
About The One Music Fest:
The One Music Fest, Inc., Bridgeville, Pennsylvania, is a 501(c)(3) non-profit music festival organization that promotes the awareness and appreciation of diversity through musical performances by various cultural and ethnic groups. Through local community-level involvement, partnerships and collaborations, as well as music performances by young and old and around the world, The One Music Fest, Inc. strives to bridge world-wide cultural divides using the universal power of music.
The One Music Fest, Inc.
info@theonemusicfest.org
https://theonemusicfest.wordpress.com