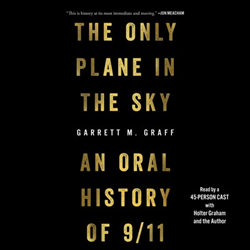 Stephen King on audiobooks: "This is the most honorable form of storytelling there is."
NEW YORK (PRWEB) March 03, 2020
The Audio Publishers Association (APA) announced 24 Audie Award® winners, the premiere award for the audiobook industry, including the prestigious Audiobook of the Year, at last night's 2020 Audie Awards® Gala at Guastavino's in New York City. The Audies recognizes outstanding achievement from authors, narrators, publishers, and producers across a wide array of genres and categories. The 2020 Audiobook of the Year was given to The Only Plane in the Sky: An Oral History of 9/11 by Garrett M. Graff, narrated by a full cast with Holter Graham, published by Simon & Schuster Audio.
The judges who chose The Only Plane in the Sky as this year's Audiobook of the Year based their selection on criteria such as narrative performance and author intent. Judge Emma Straub commented: "The narrators were incredible." Judge Adam Silvera noted: "It was the most transporting experience." Judge R. Eric Thomas concurred, calling the work "an extraordinary achievement," adding, "Graff has created a historical document with the deftness of a poet and this production only builds on it, adding a narrative propulsion that never seems exploitative and an emotional depth that's never overwrought."
Another evening highlight was the Lifetime Achievement Award given by the APA to Stephen King in recognition for his achievements in the audiobook industry. His son, bestselling author Joe Hill, said in his introduction: "Stephen King is the best damn ambassador for audiobooks that anyone could ever wish or hope for. His love for the form goes back decades. I know. I was there." In his acceptance speech, King noted:
"I listen to my own books –the reason why is because you can hear everything you did right and everything you did wrong. This is the most honorable form of storytelling there is."
It was a celebratory evening with many memorable moments, hosted by Mo Rocca, "CBS Sunday Morning" correspondent, author, and host of the "Mobituaries" podcast. Rocca said of audiobooks and The Audies: "Part storytelling, part acting, wholly engaging with an unseen audience with your voice, heart and soul … all while doing your best not to "pop your P's". I am proud to help celebrate all of tonight's nominees."
Another notable category winners included Michelle Obama's BECOMING, narrated by the author, for Autobiography/Memoir (Penguin Random House Audio); Douglas Brinkley's AMERICAN MOONSHOT, narrated by Stephen Graybill, for History/Biography (HarperAudio); and Ta-Nehisi Coates' THE WATER DANCER, narrated by Joe Morton, for Literary Fiction & Classics (Penguin Random House Audio). Full list of winners below.
You can find photos from the event
https://mm.gettyimages.com/v2/share/9992e08b-92c2-45c3-bfbf-4a2766fc35e7?page=1&order=asc
(Photo credit for all: Sean Zanni for Getty Images)