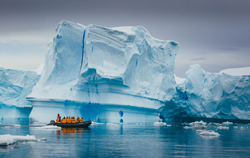 Sailing north on a superior ship, among excellent company, with some beautiful hiking in prospect is my idea of a perfect adventure.
PHOENIX (PRWEB) November 08, 2019
The Origins Project Foundation in association with Quark expeditions, will host 52 travelers on a voyage of discovery, with guest speakers including celebrated author Ian McEwan, neuroscientist Raymond Dolan, and theoretical physicist Lawrence Krauss. The group will explore Iceland's mountainous Vestfjords, and Greenland's remote northeast coast from September 19 to October 2, 2020.
Home to the world's largest fjord system and national park, and the second largest body of ice, now melting at an unprecedented rate, voyagers will explore diverse and dramatically rugged landscapes highly susceptible to the impacts of climate change. Immersed in the untamed beauty of the Arctic, voyagers will explore a landscape that is in peril, even as they catch sight of the spectacular northern lights dancing across the sky.
In addition to expert lectures on the local region and its history, culture, and climate, Origins' speakers will each give talks and participate in several interactive discussions on topics including: climate change; the Northern Lights; current and upcoming challenges in neuroscience and artificial intelligence; and visions of the future from science and literature.
Additional topics will include discussions on global shifts in water budgets, our understanding of how behavior relates to brain activity, and the way in which society deals with the presence of artificial intelligence, which will form the thematic core of the conversations that will take place in this remote corner of the planet as voyagers explore 'The World As It Is, And As It Might Be.'
The Origins Project Foundation president Lawrence Krauss said, "The choice of this particular voyage was governed by the exigencies of current times. Exploring directly this amazing landscape, marveling at the majesty of massive icebergs and towering bird cliffs and experiencing the culture of the region as well as exploring its history, will be a once in a lifetime experience. This will be tempered by the realization that Greenland is like the canary in the coal mine as far as the effects of global warming are concerned."
Author Ian McEwan expressed his enthusiasm about the voyage, "'Sailing north on a superior ship, among excellent company, with some beautiful hiking in prospect is my idea of a perfect adventure. It will be one haunted by the deepest problem confronting humankind, for these are rapidly altering landscapes and biosphere, and there'll be an element of 'last chance to see.' But this journey will be the experience of a lifetime and witnessing these momentous changes will, I'm sure, heighten our resolve to counter them.'
Neuroscientist Raymond Dolan is particularly looking forward to the conversations that will take place with participants in the voyage, sharing that "the idea of a journey into pristine landscapes always fills me with delight. Experience tells me that there is no better context for conversation, feeling inspired and appreciating how privileged we are to be able to take it all in."
Those interested in learning more can go to originsprojectfoundation.org or contact the Origins travel team at contact@originsprojectfoundation.org. Early bird discounts are being offered for bookings made before December 15, 2019.
About The Origins Project Foundation: The goal of The Origins Project Foundation is to enrich your perspective of your place in the cosmos by providing access to the people who are driving the future of society in the 21st century, and to the ideas that are changing our understanding of ourselves and our world. For more information, visit https://originsprojectfoundation.org or email contact@originsprojectfoundation.org.