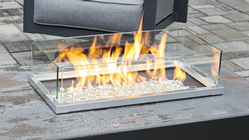 MINNEAPOLIS (PRWEB) January 24, 2019
As the leader in the outdoor living industry, The Outdoor GreatRoom Company is excited to announce the debut of the Folding Wind Guard Collection. This gas fire pit table accessory provides the convenience of a glass wind guard and burner cover in one unique design.
The Folding Wind Guard is easy to use. Simply place the panes of clear, tempered glass up for a secure glass wind guard. The wind guard protects the flame while keeping pets, hands, and debris away for increased safety. Place the panes of glass down to cover and protect the Crystal Fire® Burner when not in use.
The Folding Wind Guard sits on top of the Crystal Fire® Burner trim. The heavy-duty frame is constructed of durable extruded aluminum and stainless steel hardware.
This innovative gas burner accessory is easy to clean for less hassle and more relaxation in the patio or backyard. Currently available in 2 sizes: 12" x 24" (rectangular) and 12" x 42" (linear) for use with Crystal Fire® gas burners. Patent pending.
ABOUT THE OUTDOOR GREATROOM COMPANY
The Outdoor GreatRoom Company™ manufactures innovative, upscale products with design appeal for indoor and outdoor living spaces. Products include gas fire pits and gas fire tables, pergolas, outdoor kitchen islands, outdoor gas fireplaces, indoor electric fireplaces, outdoor patio furniture, custom, and commercial-grade products. Visit http://www.outdoorrooms.com for more information.