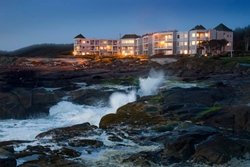 Once you come to the Overleaf Lodge & Spa and immerse yourself in this unique and spiritual stretch of the Oregon Coast, you'll instantly understand its magical sense of place, the charm and appeal.
YACHATS, Ore. (PRWEB) November 13, 2018
Situated in the coastal hamlet of Yachats, The Overleaf Lodge & Spa is a luxury retreat on an enchanting stretch of the Oregon Coast. Recently named one of Oregon's loveliest seaside towns along one of the most stunning stretches of Pacific Northwest coastline—and one of the 16 best places to live in the U.S. (Outside Magazine in 2016)—this quaint village may be small in size but it scores big on natural beauty, incredible recreational adventure, and a unique and magical place for relaxation and renewal.
Teaming with exquisite natural beauty, outdoor adventure and sanctuary for selfcare and wellness, the Overleaf Lodge & Spa surprises guests with unsurpassed ocean views, a rugged shoreline for hiking and rustic exploration and a world class oceanfront spa. A cozy lobby with a wood burning fire and pockets of comfy overstuffed armchairs greet happy travelers. Every room offers an oceanfront escape from the ordinary. And there are even snug cottages available for family gatherings or girlfriend weekends.
At the Overleaf Lodge & Spa, there's a feeling of being part of a unique community. And there is perhaps no better example of this extraordinary place than its location right on the historic 804 Trail—accessible just outside the doors of the lodge. This winding oceanfront footpath has been part of the ebb and flow of visitors' lives for thousands of years. As far back as 600 BC, natives known as the Alsi people used this trail to set up their summer camps and gather shellfish—plentiful along this particular stretch of coastline.
Connected to their physical environment in a deeply spiritual way, the Alsi people worshipped their surroundings as they communed with nature. Later, the 804 Trail helped create the community of Yachats by becoming the link between it and the outside world.
Today, Overleaf Lodge & Spa visitors come to renew and ground themselves by just being there—or partaking in its exquisite spa services, yoga retreats and meditative walks.
"Once you come to the Overleaf Lodge & Spa and immerse yourself in this unique and spiritual stretch of the Oregon Coast, you'll instantly understand its magical sense of place, the charm and appeal—like walking into a warm hug," says owner Kristin Roslund. "And that's exactly what we want our guests to feel—like they are family and at ease to relax and regenerate and enjoy the beauty of this extraordinary retreat."
Rooms with a view
At Overleaf Lodge & Spa, every room has an oceanfront view for guests to experience the drama of the stormy sea first-hand. Take in the spectacular coastline from a private hot tub or breath in the salty air from your balcony. Cozy up by the fireplace to watch the waves roll in. And then, take some time to unwind at the state-of-the-art spa complete with unique massage services, soaking tubs, sauna and natural local products. A room at the Lodge provides the quintessential place for vacationers to relax and unwind after a day of enjoying the beauty of the Oregon Coast.
Time to renew
In keeping with its place on an ancient shoreline once inhabited by the Alsi ancestors, the Overleaf Spa spirit and theme were derived from the image of a dragonfly, which is represented in the form of a totem. Overleaf Lodge & Spa founders believe that the Dragonfly totem embodies the essence of change, renewal, wisdom and enlightenment.
Dragonflies represent transformation—they begin life in the water as nymphs and then take to the air in colorful flight. The Dragonfly urges one to consciously express their hopes, dreams and needs and to seek areas in which to affect positive change. That spirit is spun through the resort's spa services and culture.
"The Overleaf Spa offers a friendly, casual and unassuming environment for our guests to explore different means to relax and unwind," says Roslund. "We bring many local, natural resources and products into our treatments—like fresh sea salt, smooth local stones and natural seaweed treatments. And our soaking tubs offer the most remarkable views for contemplating high above the dramatic sea below."
The Overleaf Spa is the supreme spa vacation destination on the Oregon Coast offering a complete menu of treatments designed to help restore, refresh, and rejuvenate your mind and body so that you can feel like your best self. Its cozy ambiance and friendly therapists and staff add an element of homespun comfort to each visit. Just some spa services include:

Sea Escape Facial and Hot Stone Effleurage
Vichy Hydrotherapy
Sea Mud Wrap
Honey Body Polish
Vita Cure Seaweed Facial
Sea Stone Massage
Explore Yachats
Miles of trails wind along the Yachats shoreline, through spruce forests and crisscross nearby Cape Perpetua, making the Overleaf Lodge & Spa a perfect getaway for those who love to explore the outdoors. And Yachats has been named home to the best trail system on the Oregon Coast by The Oregonian in 2016. Whether a hike skirting the shoreline or a trek into mossy rainforest, the extensive trail systems around Yachats rival other Oregon coastal towns for number of connected miles and mixed difficulty, not to mention some of the coast's most breathtaking views.
There's a Bike Bonus: though most trails in the area are reserved for hiking, options exist for the biking-inclined. Cummins Creek Trail, a 2.5-mile out and back open to mountain bikers cuts through Siuslaw National Forest, while fat bikers venture south to Florence to surf sand areas of Oregon Dunes National Recreation Area.
After a day filled with adventure, refuel with fresh seafood from any one of the best local places in town. Baskets of fish and chips, buckets of steamer clams, fish tacos and some of the best wood-fired pizza around. Wet your whistle at one of locals' favorite hangouts, Yachats Brewing. Small batch beers feature nontraditional ingredients and focus on local flavors such as Oregon peaches, coffee, and salal berries, to name a few.
Did you knock out most of your itinerary? Ready to unwind? Put your feet up and enjoy a bottle of wine from the Overleaf Lodge & Spa Wine Cove featuring regional Oregon wines. Whether rich red or a sparkling white, wine is an essential part of the Oregon experience—as much a part of the state's DNA as a winter rain shower or an ocean sunset. In fact, a good bottle of Oregon wine goes great with both. The Overleaf Lodge & Spa supports local wineries year-round and offers a cellar to purchase wine from some favorite Oregon winemakers.
The Lodge is replete with so many unique amenities—from fresh local seafood at the front desk and hosted happy hour receptions with wine and local cheeses, to piping hot complimentary breakfast fare and a quiet library for reading and jigsaw puzzles, the Overleaf Lodge & Spa is the seaside oasis any age group can enjoy.
When it comes to experiencing the Central Oregon Coast, a stay at the Overleaf Lodge & Spa is just the beginning. It's a home base for exploring all that Yachats has to offer—go beachcombing, wander the tidepools, walk the 804 Trail, visit local art galleries or take a yoga class, all just steps from your room. Enjoy historical and cultural activities and marvel at the area's natural wonders, including the Heceta Head Lighthouse, Sea Lion Caves, Cape Perpetua, and Carl G. Washburne State Park.
The Overleaf Lodge & Spa welcomes wintertime guests with a cozy atmosphere, enchanting oceanfront location and all of the luxuries a body and soul need to restore and renew. Please be our guest!
About the Overleaf Lodge & Spa
The Overleaf Lodge & Spa is a family owned business whose mission is to make each guest, employee and community member feel at home and relaxed. The Lodge opened in 1997, after being designed and built by founders and owners, Jerry and Georgia Roslund. Since its opening the Lodge has provided a premier Central Oregon Coast experience to visitors. For three generations the Roslund family has worked and lived in the Yachats community and the Overleaf Lodge & Spa is representative of the spirit of this remarkable place. The name 'Overleaf' was chosen through a happy accident. During the initial construction of the property, Jerry was thumbing through an architectural catalogue when he found a photo of a building he liked and mistakenly thought the architectural style was called 'Overleaf.' As it turns out, the term was instructing him to "turn the page" or "overleaf" for more information. Nonetheless, they loved the name and what it came to symbolize for the Lodge: "turning over a new leaf" in life. This is how the Overleaf Lodge & Spa was born.