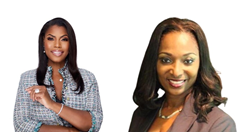 MEMPHIS, Tenn. (PRWEB) November 15, 2021
The P3 Group, Inc. and its affiliated companies are proud to announce that Omarosa Manigault-Newman and Lakina Sidney have joined its C-Suite. Manigault-Newman was hired as the Chief Diversity, Equity, and Inclusion Officer (CDEIO) and Sidney has joined the company as the new Chief Brand Officer (CBO). These ladies bring a wealth of experience and knowledge to the team.
As the CDEIO, Manigault-Newman will lead the development and implementation of proactive diversity, equity, and inclusion initiatives in support of the company's strategic plan to discover, develop, foster, and celebrate diversity within the company and in the community, identifying key opportunities for the company to expand and grow.
As CBO, Lakina will be responsible for the company's brand image and experience. She will also oversee execution and activation of all special events.
Both the CDEIO and CBO report directly to the Chief Executive Officer.
ABOUT THE P3 GROUP, INC:
Founded in 2013, The P3 Group, Inc. has grown into one of the nation's leading international real estate development and consulting firms. The P3 Group specializes in business, community, and urban development through the creation of Public-Private Partnerships, also known as P3s. The P3 Group is the nation's largest, minority-owned, real estate developer that focuses exclusively on Public-Private Partnerships. We use tax-exempt lease purchase agreements funded with revenue bonds, certificates of participation, or private placement memorandums to deliver capital necessary to design-build and finance facilities for public entities and non-profits. We never require our public partner to advance any upfront capital as we provide a 100% turnkey design-build finance solution. For more information, visit thep3groupinc.com.