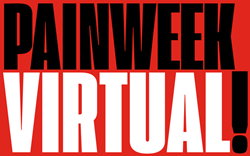 The need for pain education is not on hiatus. Patients need us now more than ever to help them negotiate pain and suffering.
MONTCLAIR, N.J. (PRWEB) July 08, 2020
Due to COVID-19, PAINWeek 2020 will be presented as a live virtual event, September 11-13. Frontline practitioners can look forward to an engaging virtual exhibit hall, scientific poster session, and the unparalleled level of expertise and education practitioners have come to expect from PAINWeek.
Debra Weiner, Executive Vice President, Program Development, remarked, "While the last several months have been challenging, they have also provided an opportunity to expand the availability of continuing medical education in pain management. Barriers to care have been exacerbated by our current pandemic."
"The need for pain education is not on hiatus," said senior faculty member Kevin Zacharoff, MD, FACIP, FACPE, FAAP. "Patients need us now more than ever to help them negotiate pain and suffering. This year, the virtual PAINWeek will help attendees familiarize themselves with what the largest multidisciplinary pain conference in the country has to offer—in September and for the rest of the year." Dr. Zacharoff is Clinical Instructor and Course Director, Pain and Addiction, at the Renaissance School of Medicine at Stony Brook University. He will present two courses: Who Will Love this Child? Advocating for Chronic Pain Patients; and Triple Threat or Epiphany? The Need for a Biopsychosocial Approach to Pain Management.
Over three days, PAINWeek will provide an expansive, multidisciplinary curriculum of 75 CE/CME hours presented by current and emerging thought leaders. An additional 45 hours of certified content will be provided as an enduring, on demand activity for a total of 120 hours.
The International Pelvic Pain Society (IPPS) will be presenting at PAINWeek 2020. "This is the 5th consecutive year of PAINWeek and IPPS collaborating in educating healthcare providers about the complexities surrounding chronic pelvic pain (CPP) conditions in women," commented Jorge F. Carrillo, MD, a Director on the Board of the IPPS. He will present The Evil Quintuplets: Endometriosis and Other Chronic Pelvic Pain Etiologies. "For the IPPS, it is a privilege to be able to support a program discussing up-to-date topics, bringing awareness and providing helpful clinical tools to assess and treat CPP patients. This year we will discuss trauma informed care approaches and common chronic overlapping pain conditions associated with CPP such as endometriosis, myofascial pain disorders, and bladder pain syndrome." Other IPPS courses include The First Encounter: A Trauma Informed Care Application; Where East Meets West: Using an Integrative Approach to Treating Overlapping Pelvic Pain Disorders; and Twisted Sister: Musculoskeletal Causes of Chronic Pelvic Pain.
To learn more about PAINWeek or to register for the conference, click here, visit painweek.org, or call (973) 415-5100.
About Global Education Group:
Global Education Group focuses on producing partnership-based CME for healthcare practitioners. The Global team works with a select group of medical education companies, associations, academic institutions and healthcare facilities to develop and accredit live healthcare conferences and workshops as well as online activities. With each partnership or joint providership, Global brings accreditation expertise, project management excellence and grant funding intelligence. Based in Littleton, Colo., Global has accreditation with commendation from the ACCME. Global also holds accreditations to offer continuing education for nurses, nurse practitioners, pharmacists, dietitians, dentists and psychologists. Global is a division of Ultimate Medical Academy.