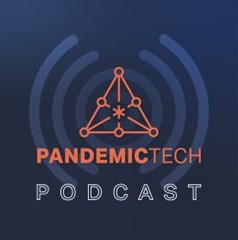 "Join us as we introduce experts in health security, straight from the front lines of the fight against pandemic infectious disease." - Dr. Andrew Nerlinger
AUSTIN, Texas (PRWEB) March 17, 2021
The inaugural episode of the PandemicTech Podcast, launching today, tells the story of how a medical mission to India and unexpected personal health crisis led to the founding of a global innovation ecosystem. What happens when an American doctor comes down with cholera in India? Hear how a husband and wife physician team responded to their terrifying brush with infectious disease by creating a global health security ecosystem and a community of first responders equipped with the skills and knowledge to handle the most serious disease threats on the planet.
Long before COVID-19, PandemicTech began building a pandemic response safety net to help prevent infectious disease outbreaks utilizing innovative technologies. The mission? To create a global network of infectious disease detectives and public health first responders and connect them with tech innovators all over the world, so that when the worst-case scenario happened, neighborhoods and nations wouldn't be left alone to deal with catastrophe.
The PandemicTech Podcast shares the personal stories of public health experts on the frontlines battling global biological threats like COVID-19 who, despite vast differences in language, culture, and politics, come together for the greater good.
The podcast launch is timed in conjunction with SXSW Online 2021 and TEXGHS Global Health Security Demo Day (3/17/21; 8:30 - 17 CDT), highlighting market-ready technologies that accelerate prevention, prediction, detection, and response to pandemic infectious disease threats.
PandemicTech is a dynamic virtual incubator: a community of innovators backed by a network of resources dedicated to fighting global pandemic infectious disease threats. Developed by entrepreneurial healthcare and bioscience professionals, PandemicTech is a venture philanthropy leading global health security innovation. PandemicTech is the world's first innovation ecosystem dedicated to fighting pandemics, helping communities build innovative sustainable, high impact solutions that prevent, predict, detect, and respond to pandemic infectious disease threats.
Dr. Andrew Nerlinger, MD, PandemicTech Co-Founder
Andrew is a physician, venture capital investor, and social impact innovator. In addition to his work leading PandemicTech, he is a Venture Partner at Bill Wood Ventures and is the co-founder and Managing Director of Endura Ventures, an Austin-based management consultancy.
Dr. Lisa McDonald, MD, MTSC, PandemicTech Co-Founder
When not working on PandemicTech projects, Lisa is the director of the Life Science, Biotechnology, and Medical Device vertical of the Austin Technology Incubator (ATI) at The University of Texas at Austin. She is also co-founder and advisor at Endura Ventures and is part of the founding team of the Texas Global Health Security Innovation Consortium (TEXGHS).
Host Tavia Gilbert is an award-winning writer and performer who produces cutting-edge audio for a global audience.