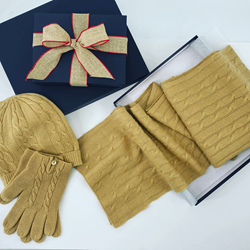 Our Top 7 list includes all-time customer favorites, on trend looks and everyday accessories that are always in fashion
HOUSTON, Texas (PRWEB) April 20, 2021
The Pashmina Store, one of the largest online retailers of 100% pure, grade A cashmere, today announced its top 7 cashmere gift ideas for Mother's Day 2021. This year, Mother's Day falls on Sunday, May 9.
The Pashmina Store is also announcing a special store-wide savings event. Beginning today, April 20, 2021, website shoppers will be able to enjoy 10% off on all purchases, along with free standard shipping. Shoppers may enter the coupon code "MAMA21" during checkout through May 4, 2021 to receive the discount. The website is http://www.thepashminastore.com.
The Pashmina Store's Top 7 Gifts for Mother's Day 2021 include a selection of this season's most popular items:
1) Pure Cashmere Cable Knit Gloves Camel
2) Pure Cashmere Cable Knit Scarf Midnight Lavender
3) Knit Cashmere Socks Dark Chocolate
4) Pure Pashmina Scarf Beige
5) 3 Ply Cashmere Pashmina Zebra Animal Print Scarf
6) Pure Pashmina Shawl Natural 3 Ply
7) Pashmina/Silk Wrap Black
"Our Top 7 list includes all-time customer favorites, on trend looks and everyday accessories that are always in fashion," said Blair Rhodes of The Pashmina Store. "For this special occasion, we are delivering additional value to our customers on our always thoughtful cashmere gifts."
The company also offers gift certificates, which can be redeemed all at once or over time.
About The Pashmina Store
Since 2001, The Pashmina Store has been proud to offer the finest quality pure pashmina and pashmina/silk blend shawls, wraps, scarves, cashmere blankets and other fashion accessories. Customers enjoy the entire experience with quality products at exceptional values, free standard shipping in the U.S from Texas, and a satisfaction guarantee.