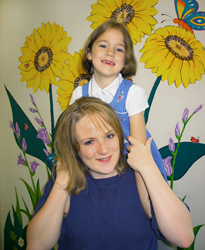 "It is inspiring to share space and learn with other experts and organizations at the conference working to support children and families impacted by incarceration. We are grateful to be part of this community doing such important work."
PORTLAND, Ore. (PRWEB) April 15, 2019
The Pathfinder Network is attending and presenting the National Children of Incarcerated Parents Conference from April 14-17, 2019. The conference, hosted by the Arizona State University Center for Child Well-Being at the Renaissance Hotel in Phoenix, Arizona, offers the opportunity for the organization to connect with other experts, share resources and engage in action-planning around the topic of criminal justice system-impacted families. This is the second annual conference and the organization's second year participating and presenting.
"It is inspiring to share space and learn with other experts and organizations at the conference working to support children and families impacted by incarceration," shared The Pathfinder Network's Associate Executive Director, Leticia Longoria-Navarro. "We are grateful to be part of this community doing such important work."
On Monday, April 15 from 10:00-11:00 a.m. in Salon Two, Longoria-Navarro will lead a workshop titled, "Can I Put My Arms Around You? Visiting in Prison" along with The Pathfinder Network's Parenting Inside Out Program Manager, Richard Hines-Norwood, and Oregon Department of Corrections (ODOC) Program and Support Services Administrator, Nichole Brown. Their presentation will highlight ODOC's commitment to supporting, improving and expanding visitation and family connections over the last 15 years, including public and private partnerships to create family-friendly visiting rooms, unique family engagement activities, special events and innovative programs throughout a parent's incarceration. Specifically, the presentation will focus on ODOC's partnership with The Pathfinder Network in delivering Parenting Inside Out (PIO), an evidence-based parenting skills training, and the next steps for the program—PIO Phase II: Enhanced Visitation.
"We are proud of our over fifteen year partnership with the Oregon Department of Corrections," said Longoria-Navarro. "We look forward to sharing our story of collaboration and the exciting and innovative expansion of our parenting program."
The PIO Phase II pilot project is an advanced skills development and visitation program for incarcerated parents who have successfully completed PIO, and is scheduled to launch later this year. In addition to advanced parenting skills practice, the program will offer robust opportunities for parents to build healthy family relationships through one-on-one coaching, support groups, enhanced visitation with their children, post-visit sessions, development of parenting re-entry plans and family engagement events. Children and caregivers will also receive ongoing resources and support throughout the program to increase protective factors and to create space for growth, healing, empowerment and understanding.
To learn more about Parenting Inside Out, conference attendees can visit the PIO booth in the main exhibit hall throughout the conference. Developed in partnership with The Pathfinder Network, ODOC and the Oregon Social Learning Center, PIO is the only parenting program developed specifically for incarcerated and criminal justice-involved parents. The evidence-based, cognitive-behavioral parenting skills training program gives parents a way of navigating life that uses healthy, prosocial skills to interact with their children, partners, co-parents, officials, friends and family. In addition to delivering PIO in prison, jail and community settings across Oregon, The Pathfinder Network markets PIO and trains criminal justice agencies to successfully implement the program, which is now used in 32 states and three countries.
For more information, please visit https://www.thepathfindernetwork.org.
The Pathfinder Network is a 501 (c) (3) social service agency founded in 1993 with a mission to provide justice system-impacted individuals and families the tools and support they need to be safe and thrive in their communities. The Pathfinder Network provides cognitive-behavioral programs, parenting programs, education and support services for pro-social living to adults in the Oregon prison system and to children and families in the community.