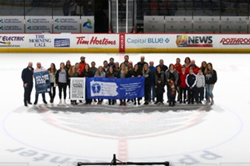 Allentown, PA (PRWEB) March 31, 2019
In honor of National Athletic Training Month, the Lehigh Valley Phantoms Hockey Team hosted an Athletic Trainer Appreciation Night at the PPL Center in Allentown, Pennsylvania on March 10th. Members of The Pennsylvania Athletic Trainers' Society (PATS) were invited to attend the game to be recognized for the critical work they do on a daily basis. PATS had an informational booth set up at the entrance of the arena to provide educational materials about the profession of athletic training and National Athletic Training Month to the community in attendance. This was an also effort to help spread awareness, and also educate on the AT for All platform.
In addition to the night being a platform to spotlight Athletic Trainers, a portion of all funds raised from our ticket sales went towards a PATS scholarship fund. For more information on PATS scholarships, please visit http://www.gopats.org/scholarships/scholarships.htm.
After the hockey game, attendees were invited to Chickies and Pete's restaurant to socialize and network. Around twenty PATS members took part in the social.
For more information regarding this topic or to schedule an interview with PATS President George Roberts,MEd, LAT, ATC (president@gopats.org) please contact Linda Mazzoli, MS, LAT, ATC, PATS Executive director at patsexecutivedirector@gopats.org.
The Pennsylvania Athletic Trainers' Society, Inc. is a progressive organization of licensed healthcare professionals who work under the direction of a licensed physician. Our society continues to increase public awareness and education regarding Athletic Trainers and the Athletic Training profession while serving as the premier source of information for public safety, injury and illness prevention, early intervention, patient care, and healthcare delivery for the physically active in the Commonwealth.
"The Keystone to a Healthy and Physically Active Life"