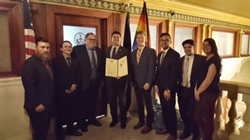 Harrisburg Pa (PRWEB) March 31, 2019
The Pennsylvania Athletic Trainers' Society (PATS) works hard to promote the athletic training profession through both public and governmental relations efforts. As a result of these efforts, legislation has been passed on multiple occasions that have a great effect on the profession of athletic training.
A large part of the legislative success for athletic trainers in Pennsylvania is due to the Pennsylvania Athletic Trainers' Society (PATS) annual "Hike 2 Harrisburg". Members of PATS, athletic training students, and other supporters collaborated on Monday March 18th to meet with legislators who play a key role in the support of Athletic Trainers in the Commonwealth of Pennsylvania.
The group of athletic trainers (ATs) from PATS, students and supporters celebrated the theme of National Athletic Training Month 2019: "ATs are Health Care". The day began with a brief introduction and networking session with the PATS lobbyist group in Harrisburg. The group then headed to the East Rotunda of the Capitol building and organized into mini-groups to proceed to the scheduled meetings with legislators. These meetings gave PATS members and students the opportunity to sit down one-on-one to discuss important topics about the PATS organization, about athletic trainers, about legislative bills that PATS supports and about any upcoming legislation.
A group from PATS met with House Representative Briggs who supported and presented the House resolution stating March is Athletic Training Month in the Pennsylvania.
There was also a PATS display with informational brochures and giveaways in the East Rotunda. This space provided a platform to educate the Capitol community about athletic training.
For more information regarding this topic or to schedule an interview with PATS President George Roberts, MEd, LAT, ATC (president@gopats.org) please contact Linda Mazzoli, MS, LAT, ATC, PATS Executive director at patsexecutivedirector@gopats.org.
The Pennsylvania Athletic Trainers' Society, Inc. is a progressive organization of licensed healthcare professionals who work under the direction of a licensed physician. Our society continues to increase public awareness and education regarding Athletic Trainers and the Athletic Training profession while serving as the premier source of information for public safety, injury and illness prevention, early intervention, patient care, and healthcare delivery for the physically active in the Commonwealth.
"The Keystone to a Healthy and Physically Active Life"