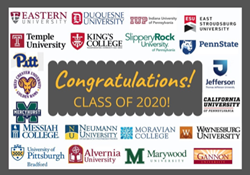 My graduation celebration from West Chester University's Master of Athletic Training program was one to remember. My education at WCU introduced me to some of my closest friends, fondest memories and prepared me for my future endeavors. -Ashley DiLullo, WCU 2020 Graduate
HARRISBURG, Pa. (PRWEB) July 17, 2020
With graduation season coming to a close, The Pennsylvania Athletic Trainers' Society (PATS) wanted to take a moment to say a sincere congratulations to the Pennsylvania athletic training graduating classes of 2020. Your commencement may not have been what you envisioned when you began your professional journey to become an athletic trainer; however, it is certainly a memory that made history and hopefully will be a time that you cherish forever. The resilience that the 2020 graduates displayed illuminates the bright future of our profession.
PATS also wanted to express gratitude to the Athletic Training Programs in Pennsylvania. The faculty and staff at each institution made immense efforts to ensure that their students were celebrated. Graduates were given the opportunity to submit graduation stories and memories to be recognized by PATS. Shared from the students perspectives, here are a few of the ways that Pennsylvania AT programs honored their recent graduates.
Marissa Carafa shared her East Stroudsburg University graduation experience. "Graduation is such an important milestone in one's life. After four years of hard work and determination, the graduation commencement is a special day to celebrate one's accomplishments. Due to COVID-19, the Class of 2020 was unable to finish off the year which also included graduation. Once the news was released, East Stroudsburg University's Athletic Training program acted immediately and set up a graduation ceremony via Zoom. Graduating AT students, professors, family and friends were invited to be a part of our special day. During the Zoom graduation, students dressed in their cap and gown while professors and students shared memories and student accomplishments from the four years within the program. Each of us graduates got to express our gratitude and our future endeavors. Even though we were unable to walk across the stage, the Department Chair, Gerard Rozea, announced each of the graduates to honor all of our accomplishments and success. Although we may have not ended the way that was planned, us graduating students are very thankful to be a part of East Stroudsburg University's Athletic Training program."
Nicolas Littzi reflects on his graduation from King's College. "In planning King's College's graduation, the coronavirus (COVID-19) posed significant obstacles to organizing the event for it to be as close to traditional as possible. What that meant with the current circumstances was to have a fully online graduation. This notice I received via e-mail from the King's College President, Fr. Jack Ryan, did not surprise me given COVID-19's notable grasp on society's attempts for normal operations. School-wide, that is how the 2020 graduation will proceed: online. The Department of Sports Medicine at King's College hosts a dinner annually to recognize each senior individually and even reward a few in both clinical and educational domains. Even though the 2020 "Senior Dinner" was a wash in-person, the department nevertheless hosted an online version of our traditional event to ensure the seniors of 2020 were recognized and for some, rewarded, despite the unfortunate and uncertain circumstances. The fact the department pursued to host at least some form of the traditional event spoke volumes to both myself and all of my fellow 15 seniors. I truly felt how much they empathized with each senior who had to endure this difficult time in human history. Not only did they care enough to host an online senior dinner which I am sure was difficult to do in a short amount of time, but they also bought each of the 16 seniors a gift. The love and care from the faculty at King's College is difficult to put into words, but one thing for certain is that the class of 2020 is leaving King's College feeling valued and fortunate to have had such a conscientious faculty."
Regan Allsop and Maddison Miller, graduates from West Chester University share their graduation celebration memories. "My final semester at West Chester University was abruptly cut short due to the global pandemic. Just like that, so many events that my class had been looking forward to for months, if not years, had been canceled. Graduation was one of these events. My professors decided that a celebration was still in order for all of our accomplishments, so we began to prepare a Zoom graduation. The video graduation began with a speech from the chair of our athletic training department, Dr. Katie Morrison, celebrating the 50th and final BSAT class from WCU. Then, Dr. Neil Curtis gave us "DJ names" and announced us as such as we were recognized individually. Afterward, we all played a Kahoot game filled with our favorite memories, random facts, decorated mortar boards and lots of laughs. To close out the ceremony, we watched a video that Dr. Carolyn Jimenez put together, highlighting pictures of every person in my class. Our professors also included short video clips of one word that they would use to describe the Class of 2020. By the end of the video, emotions were running high and we all said our thank yous and our see you laters. This graduation meant so much to me and I will always remember the unique way we were able to celebrate. I will forever be grateful for the amazing experiences, education, and friendships that the West Chester Athletic Training program has provided me."
Maddison Miller says, "while having a virtual graduation was not ideal, I'm glad I still had the opportunity to celebrate with my fellow classmates and professors from West Chester University (WCU). The professors wanted to honor all of our achievements and have us come together to make our day as special as it could be given the circumstances. It consisted of playing Kahoot with facts from the Class of 2020 and the professors, admiring our mortarboard designs and concluded with a picture video. The pictures were a culmination of my graduating class and it was really touching to see all the memories we had together. This year was also 50 years of Athletic Training Education at WCU and I couldn't be more proud to graduate from such a historic program."
Julianna DeLuca reminisces about her PSU graduation experience and shares her future plans. "Every year the seniors celebrate a long awaited graduation and normally obtain the coveted ATC credential with a graduation brunch. We sit in the classroom where we have taken almost every athletic training class at Penn State with our families and celebrate our achievements. This year we were faced with the challenge of still trying to be excited about everything we have done while not really feeling finished. The juniors in the program along with our staff did an amazing job to still give us seniors a day to remember. They planned a zoom call where all of our classmates, professors, preceptors and family could all tune in and watch. Our program director and clinical coordinator both gave some great words of encouragement. Our peers voted for Superlatives which gave everyone a laugh. The best part of the graduation was that there was a video where all of our family and friends said how proud they were of us and it was so personal and touching. I am heading off to become an officer in the United States Marine Corps and will not be able to see my peers again and though this wasn't the graduation we planned, it was far and beyond what I had expected. Forever grateful to Penn State and We Are!"
Sam Gatti shares her graduation from Neumann University. "On May 15th, 2020 my peers and I graduated from Neumann University. Our graduation however had a twist to it. Due to COVID-19 our traditional graduation was postponed until further notice. The school set up multiple virtual opportunities to socialize with and celebrate the class of 2020. As an athletic training student, the program celebrated us exclusively by a virtual toast. At 5:00 PM on May 15th all athletic training education faculty joined the graduating students in a virtual toast over a Zoom call. We all had our favorite celebration drink of choice and had a moment to celebrate all of our hard work throughout our journey. Although it was not the graduation day we expected, the athletic training program found a way to make it special for all of us to remember."
Ashley DiLullo, a recent graduate of WCU earning her Masters degree shares her story. "My graduation celebration from West Chester University's Master of Athletic Training program was one to remember. Due to the unforeseen circumstances of the COVID-19 pandemic with a stay at home order, WCU provided my class with an online graduation celebration recognizing each of us personally for our achievements and allowed us to see one another one last time. My education at WCU introduced me to some of my closest friends, fondest memories and prepared me for my future endeavor as the Head Athletic Trainer at Sacred Heart Academy. I would not be where I am today if it wasn't for the education I was provided with, and the connections I have made along the way."
Drs. Nichola St. James and Angelica Davison McCarthy share their doctoral graduation memories from Temple University. "Graduation is a unique experience to each of us. For me, graduating with my Doctorate was fulfilling a lifelong promise to my children and myself. My undergraduate degree prepared me to work as a functional athlete trainer in the early years of my blossoming career. My master's degree provided a better depth of the concepts applied to rehabilitation as an athletic trainer but my doctoral athletic training program taught me how to apply these loose concepts we built upon into complex paradigms which I can validate my means of treatments for my patients and be a means to shift the public health within my community. Our graduating DAT class has become very close knit over the past few years. We rallied for one another over career successes and patient outcomes. We understood how many hours each of us were juggling with our athletic training careers and the effort necessary to complete a doctoral degree. So when we embraced the final times together we had hoped to say goodbye at our planned graduation on May 7th, due to covid-19 we cheered for one another as we watched our names and pictures slide by in a virtual ceremony. I feel that our athletic training education provided a strength for us to draw from when our lives changed to help stop the spread. Not only had we done it, we finished an arduous journey but we did it amidst a novel pandemic but we did it as one, each for ourselves but not without each other."
Dr. Angelica Davison McCarthy writes, "Temple University's Doctor of Athletic Training Program made graduation quite special for the 2020 DAT graduates this year. As we all have felt the life changing effects of covid-19, our program director, Dr. Mansell brought us all together to celebrate; not only with my fellow classmates, but also with fellow graduating DAT programs from A.T. Still University and Indiana State University. We all gathered via zoom- professors, graduates, and even alumni from all three programs- to speak a few words of wisdom and to cheers to our accomplishments! It was a very empowering and special moment to have because even though we were distanced, the connection between us all was energetic and empowering! It was truly great to celebrate accomplishing our goals and the athletic training profession!"
Congratulations class of 2020! The Pennsylvania Athletic Trainers' Society wishes you the best of luck with all of your future professional endeavors as certified athletic trainers.
A photo of the PA AT programs created by the Eastern Athletic Trainers' Association (EATA).
You can visit the new website (https://gopats.org) to check out the new logo as well as stay up to date on the most current happenings with PATS. You can also find PATS on social media:
Instagram: gopatsat
Twitter: gopatsat
Facebook: Pennsylvania Athletic Trainers' Society
For more information regarding this topic or to schedule an interview with PATS President Shelly Fetchen DiCesaro PhD, LAT, ATC, please contact Linda Mazzoli, MS, LAT, ATC, PATS Executive director at exdirectorpats@gmail.com.
The Pennsylvania Athletic Trainers' Society, Inc. is a progressive organization of licensed healthcare professionals who work under the direction of a licensed physician. Our society continues to increase public awareness and education regarding Athletic Trainers and the Athletic Training profession while serving as the premier source of information for public safety, injury and illness prevention, early intervention, patient care, and healthcare delivery for the physically active in the Commonwealth.
"The Keystone to a Healthy and Physically Active Life"