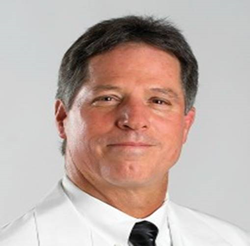 WILLIAMSPORT, Pa. (PRWEB) August 20, 2020
The Athletic Training profession is fortunate to have dedicated physicians working side-by-side athletic trainers to provide quality healthcare to high school, collegiate, and professional athletes as well as the physically active all across the Commonwealth.
On behalf of the Pennsylvania Athletic Trainers' Society (PATS), we honor one such deserving team physician for the class of 2020.
Dr. Patrick Carey has been the team physician for the Lycoming College athletic department for the past 30 years, beginning his association with the institution in 1990 after a residency and fellowship at Temple University, Philadelphia, PA. He was recruited to start a sports medicine program in the North Central PA area based in Williamsport, PA, home of the Little League World Series. He founded Divine Providence Sports Medicine with Dr. Craig Stabler, himself a PATS Honorary Team Physician award winner (Class of 2014), and then began his own practice, West Branch Orthopedics, which he ran for 25 years before joining UPMC Susquehanna Sports Medicine in 2015.
Dr. Carey and Lycoming College have perhaps an unusual arrangement in the fact that they do not have an official monetary contract. It's just been that for 30 years, if a student-athlete has an injury, the athletic training staff simply picks up the phone and calls him. He either makes sure there is time to see the athlete in his office or he makes the trip out to campus to see the athlete in the athletic training room. It is also not out of his character to do this with local high school student-athletes or even professional athletes as Dr. Carey has served 18 different area high schools, a minor-league professional baseball team, and of course, the Little League World Series organization over the span of his career.
From diagnosis to rehabilitation, Dr. Carey provides Lycoming College student-athletes with care that is world class, especially for a small-sized city. He takes the time to make sure an athlete knows what they need to know in order to return to the field or court of competition. He also supports them once they are back, often celebrating their team success and personal accomplishments. He understands the NCAA Division III ethos, he understands that these athletes are most likely not going to become professional athletes, and he provides recommendations that are always in the best interest of the student-athlete having a full, healthy life in the future and not just getting back to their sport.
Dr. Carey also has shown the ability to teach and mentor, spending time explaining sports medicine skills and techniques with his athletes, sports medicine staff, and young physicians. He has presented at numerous national, regional, and local sports medicine symposiums and lecture series as well as having several research works published in professional journals.
In addition to this award, Dr. Carey has been honored by the Lycoming County Medical Society, selected for Irish America Magazine's Healthcare & Life Sciences 50, and received the Lycoming College Athletics Department 25 Year Service Award, has honored Dr. Carey. He has been nominated for several local Hall of Fames as well but, in typical Dr. Carey humble fashion, he has refused these high honors until he retires from the medical profession, including his induction to the Lycoming College Athletics Hall of Fame.
Dr. Carey certainly understands the important role that athletic trainers have in providing quality healthcare to all levels of athletes and has been a strong advocate for helping athletic trainers. His commitment to the student-athlete is unwavering and his hands-on, personal approach to healthcare delivery is most comforting to the patients he serves. It is with great appreciation that Dr. Patrick Carey is receiving the 2020 Pennsylvania Athletic Trainers' Society Honorary Team Physician Award.
You can visit the PATS website (https://gopats.org) to stay up to date on the most current happenings with PATS. You can also find PATS on social media:
Instagram: gopatsat
Twitter: gopatsat
Facebook: Pennsylvania Athletic Trainers' Society
For more information regarding this topic or to schedule an interview with PATS President Shelly Fetchen DiCesaro PhD, LAT, ATC, please contact Linda Mazzoli, MS, LAT, ATC, PATS Executive Director at exdirectorpats@gmail.com.
The Pennsylvania Athletic Trainers' Society, Inc. is a progressive organization of licensed healthcare professionals who work under the direction of a licensed physician. Our society continues to increase public awareness and education regarding Athletic Trainers and the Athletic Training profession while serving as the premier source of information for public safety, injury and illness prevention, early intervention, patient care, and healthcare delivery for the physically active in the Commonwealth.
"The Keystone to a Healthy and Physically Active Life"